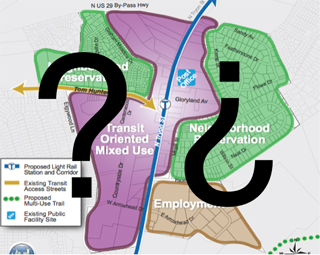 Picture North Tryon Street at Tom Hunter Road: Gas station, post office, small strip center, old apartments and a car dealer, right?
Now imagine a place so dynamic, people will ride our future light-rail train there just for fun, food and maybe a good book!
Sound crazy? Not to experts who accepted University City Partners' invitation to predict this area's transit-powered potential.
The group – real-estate development experts who volunteer their services to the nonprofit Urban Land Institute – spent two days here in October at University City Partners' request. A $75,000 grant from the John S. and James L. Knight Foundation underwrote their project.
Two days to envision the future
The team's mission: Determine if there are ways to attract transit-driven redevelopment around the future Tom Hunter Road transit station on North Tryon Street, with particular focus on 18 acres that includes the Parks Chevrolet dealership.
Specifically, Is affordable mixed-use and market-rate housing feasible? What municipal services might help here? What will it take to get substantial private investment?
The team had already received a "book" of facts and figures about the area to prep them. They spent their first day meeting with stakeholders, property owners and neighborhood leaders from Hidden Valley and elsewhere.
One of Charlotte's biggest single-family neighborhoods, Hidden Valley, lies just beyond easy walking distance from the transit stop. What do residents want here? What might get them to the station?
The vision starts to gel
From all of that information began to evolve a vision of a place that taps the growing international melting pot along North Tryon Street, provides needed services like a library, park and community gathering spot, gives entrepreneurs a place to flourish, and somehow preserves affordable housing for longtime residents who might otherwise have to move when apartment and home prices start to jump.
At 5 pm on Day 2, the experts spent more than an hour at Sugar Creek Library presenting their findings and recommendations to a gathering of community and civic leaders.
Advice in a nutshell
Boiled down, the group advised: Yes, this area has great promise, if you … Start now. Keep it simple. Use what's here first. Connect to neighbors with better streets, sidewalks and transit. Create a strong brand. And be patient. If you do it right over the next few years and create that special destination, the big private investments like in South End will ultimately follow.
"This could be a great way to spur something meaningful that could become a town center," one team member predicted.
Parks Chevrolet might drive the change
The team had been asked to focus on the car dealership, whose owner plans to redevelop the property once light rail begins to run. The experts had no problem with that assignment.
"How do we get from Point A to Point B" at Tom Hunter Road? "Our best opportunity is Parks Chevrolet," said team member Jay Levell of White Point Partners.
Rather than tear anything down right away, make use of the existing buildings, the team recommended. The 38,000-square-foot repair shop with its many rolling doors could be a great international market, similar to the Trinity Groves restaurant incubator in an old warehouse in Dallas, suggested Phil Payne, CEO of Ginkgo Residential.
The 25,000-square-foot building near Tom Hunter Road might work as a library or other community service. Eight acres of open space on the edges of the parcel could become park and gathering place.
And all of that car-dealership asphalt? Ideal for light rail and retail parking.
Invite the neighbors
Another big issue for the team was improving access to this center from neighbors, particularly in Hidden Valley. The center needs them, but roads don't head this way, they observed, so start connecting streets and building walkways. Plus get shuttle buses and make sure you have parking, since most of Hidden Valley is too far away for walking.
For the rest of the story …
The ULI team will complete a final report in a few weeks for University City Partners and other parties involved in this study. Want to know more? Contact University City Partners Planning Director Tobe Holmes at tholmes@universitycitypartners.org.