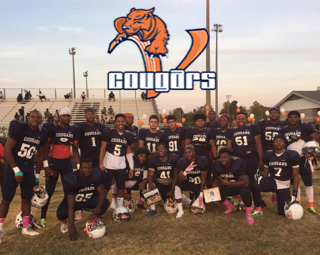 Friday night lights will shine extra bright this weekend in Governors Village, as the playoffs-bound 9-1 Vance High Cougars celebrate Seniors Night with a battle against the 7-3 Hough High Huskies.
Both teams come off of victories, including Vance's 75-8 thrashing of Hopewell.
Expect fireworks at halftime, too, from the award-winning Vance Cougars Marching Band.
"We are diligently preparing to support our football team to go all the way to a State Championship title," says Marching Band Director Jared Davis. "We are constantly preparing new music and routines to keep the game pumped and full of excitement!"
Great year for Vance and Mallard Creek
This has been another great year of high-school football for Vance, as well as its No. 1 rival, Mallard Creek.
The Vance Cougars, coached by Aaron Brand, got to 5-0 and No. 1 on the Observer's Sweet 16 football poll for the first time ever this fall, before losing to A.L. Brown. Now 9-1, Vance is ranked No.3 in the region among 4A teams, and No. 9 in the state.
The Mallard Creek Mavericks, state 4AA champs three years running under longtime coach Mike Palmieri, began the season ranked No. 10 in the nation. Even with two losses – including 21-38 to Vance on Oct. 14 – Mallard Creek still ranks No. 5 among the region's top 16 teams.
Both Mallard Creek and Vance will make the playoffs.
Plenty of action ahead on Friday
Vance's home game this Friday vs. Hough could be a thriller. Although Hough lost to Mallard Creek, it beat the team that beat Vance – A.L. Brown – and has demolished lesser teams including Hopewell (55-6) and West Charlotte (31-0).
Vance, meanwhile, hopes to see another high-scoring victory like its 55-7 blowout of North Mecklenburg two weeks ago. In that game, Quarterback Kingsley Ifedi threw for 199 yards and four touchdowns. His favorite target, tight end Jeremiah Hall, scored on three of those throws.
No. 1 in the state?
How far can Vance go in the playoffs? One prep-school football website using its secret brew of data and computer models predicted a week ago that Vance High will be the 2016 Division 4A champs. This week the same website predicts Vance will lose to Charlotte Catholic on Nov. 27.
In other words, who knows? Meanwhile, enjoy the journey and cheer for our Vance Cougars!
Come to Friday's game
The Vance Cougars and the Hough Huskies play at 7 pm Friday at Vance High School stadium, 7600 IBM Drive.
Follow the Cougars online