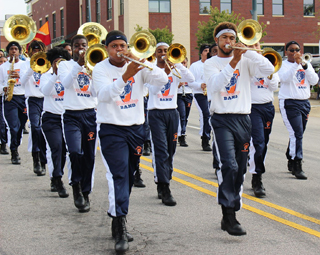 Halftime means Showtime! for the Vance Cougar Marching Band and its Ladies of Elegance Dance Line. And, hey, what a show!
"Eye-catching dance moves, catchy chants, and bob-your-head, rock-your-body music that gets into your soul," says its director.
Catch the next performance at 7 pm Friday at the Vance High football field! More words really don't do this band justice, even coming from band director Jared Davis.
"The marching band is described as a high-stepping, show-style band because that's what we do," he says. Seeing is understanding, so we highly recommend that you watch and hear one of Davis's favorite videos, of the band's award-winning performance at this fall's Spirit of the Cardinal Battle of the Bands.
A new director, a new style
Much of what you'll see in the video and at halftime on Friday night begins with Davis, fresh out of Norfolk State University (magna cum laude with a BA in music education) in 2011 when Carlos Richardson, now the school's athletic director, interviewed Davis for the position of band director. The marching band was down to 22 members at the time.
"Mr. Richardson told me that they wanted to hire someone who had a vision to take the Vance High School Band Program to the next level," Davis says. "I told him, 'I am the man for the job,' and the rest is history."
One band but many hands
That "history" includes tripling the band to 67 members this fall, launching a new dance line, revolutionizing the band's music and moves, winning competitions like this fall's Battle of the Bands, and building a strong team of administrative leaders, band boosters and assistants.
Davis credits UNC Charlotte grad and dance instructor Tameka Alexander for the "totally unique dance style" of the Ladies of Elegance Dance Line.
"Our dancers look like themselves. Every time they perform, they are always praised on the originality of their look, style and poise."
High notes for the kids
Ultimately, the band's successes come directly from the enthusiasm and passion of its musicians and dancers – something else that comes through as you watch the band videos, like the exhausted drummer dripping with sweat and the beaming Royal Silk flag ladies posing with the Vance Marching Band banner on Tryon Street last Thanksgiving.
"The Kids! I would be nothing without them," says Davis, who credits a student first introducing him to her dance instructor – Ms. Tameka.
Playing in the band has also helped the students perform in class and look to the future, Davis says.
"All of my students understand that they now have something to lose if their grades aren't up to par. They must also represent the band in the highest light at all times. "That means watching what they say, who they hang around and who they associate themselves with within the school."
Band opens doors to college
One of the rewards of being in the marching band is visiting colleges to compete and perform, as they did last Saturday at the NC A&T homecoming parade (watch on Facebook).
"My most proud moment with the band was when we went on our first-ever out-of-town band trip," Davis says. Thanks to fundraising, the students paid just $10 apiece to travel to Jackson, Ms. to witness a battle of the bands between the Jackson State University "Sonic Boom of the South" and Southern University's "Human Jukebox" marching bands.
"Many students' faces lit up with excitement when they saw the two collegiate bands square off against one another," he says.
Davis says he loved hearing his energized students talk about playing in a college marching band one day. Those opportunities are increasing rapidly. A dozen colleges visited Vance last year to talk with band members about their music programs, Davis says, and he took a select group of students on a fast-paced three-day tour of several colleges in Alabama, Louisiana and Mississippi. Davis says that band members received more than $175,000 in scholarships last school year.
Next step – more community support
As you can imagine, Davis has set big goals for the marching band: Grow to 100 or more members in two years; increase scholarship offers to $200,000-plus; and grow that all-essential community support.
"I want to continue to cultivate the band culture here in the University City area of the Queen City," he says, and the community can help.
Among the immediate needs: more water at the games; new or used instruments for the growing band; and cash to help fund uniforms and trips.
Upcoming performances
Football playoff games – Playoffs start Nov. 13, with championship games Dec. 10. "We will definitely accompany the football team to playoff games!" Davis says.
Thanksgiving parades – Novant Health Charlotte Thanksgiving Day Parade in uptown, 9:30 am Nov. 24 on Tryon Street; plus regional parades at Spencer and Salisbury.
Winter Concert – Dec. 13 at Vance High, 7600 IBM Drive. Details will be available soon on the band website and Facebook page.