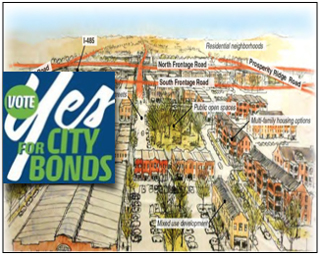 Besides choosing who'll fill many political offices and judgeships, Charlotte voters are deciding whether to approve municipal bonds for transportation, housing and infrastructure. If the bonds pass, University City will benefit in several ways, including a key I-85 bridge, more walkable streets and a game-changing 26-mile trail to Uptown and beyond!
Do you need to know more before voting? We've got the details!
First, thanks for your interest in this year's Charlotte municipal bond packages. If approved, the bonds will fund important improvements for University City as well as all of Charlotte.
Last on the ballot, but so important!
The very last page of the ballot will ask voters to decide whether to approve three separate bond issues. You can vote on each of the following:
Transportation bonds totaling $148,440,000
Housing bonds totaling $15 million
Neighborhood improvement bonds totaling $55 million.
How these bonds will benefit Charlotte
The ballot cannot begin to explain the scope and benefits of the many projects that will receive funding from this bonds, plus answers to many common questions – most notably, whether our taxes go up if the bonds are approved (Answer: no.). You can get the full picture at voteyesforbonds.com.
Details on how these bonds will benefit University City
University City will benefit directly from the bonds by receiving funding for several important projects. Here are the main projects, and links to our resources.
I-85 North Bridge – The I-85 North Bridge will connect University Research Park to University Place and the coming LYNX light-rail line on North Tryon Street. A similar bridge is nearing completion between IBM Drive and IKEA Boulevard.
Neither bridge will have a connection to I-85. Instead, both bridges are strategically located to help Research Park workers safely walk, bike, drive and ride buses to the future North Tryon Street transit stations and parking decks.
I-85 North Bridge video – Watch
I-85 North Bridge information meeting – 6-8 pm Nov. 3 at Elevation Church, 8105 IBM Drive. The meeting will start at 6 pm, with a short presentation at 6:30. City staff will answer questions and explain project details.
Cross Charlotte Trail – The 2016 bonds include $28 million to begin construction on an ambitious 26-mile cross-county bike and pedestrian trail linking our existing Mallard Creek, Clark's Creek and Toby Creek Greenways to several other greenways all the way through uptown (the Little Sugar Creek Greenway) and south Charlotte to Pineville.
The proposed route will link many neighborhoods and attractions including Mallard Creek, UNC Charlotte, Hidden Valley, NoDa, uptown, Park Road Park and Pineville.
Northeast Corridor Improvements (NECI) – Four bond packages over six years, beginning with the one voters approved in 2014, include a total of more than $100 million to help people get to the LYNX light-rail stations that open next summer.
Money will pay to improve streets, sidewalks and bikeways along roadways near the transit stations.
In University City, this money will fund improvements on West Rocky River Road, McCullough Drive (and its extension to the Grande Promenade shopping center), and JW Clay Boulevard through University Place.
Prosperity Village improvements
Charlotte continues to invest in the growing community along both sides of I-485 near Highland Creek. The goal is to provide the public investment necessary for walkable, livable new villages where Prosperity Church Road crosses I-485, as spelled out in Prosperity Hucks Area Plan approved by Charlotte City Council in 2015.
Prosperity Village Community Investment Plan details
Still have questions?
Visit voteyesforbonds.com and Facebook.com/VoteYesForBonds/ for all of the bond-package details including how you can get involved in supporting the bonds.
Early-voting and general voting information
Mecklenburg County residents can vote early through Nov. 5 at 22 locations, including University City Regional Library at 301 E. WT Harris Blvd., Sugar Creek Library at 4045 N. Tryon St., Hickory Grove Library at 5935 Hickory Grove Rd. and Cone Center at UNC Charlotte. Get all election details and your sample ballot at the Board of Elections website.