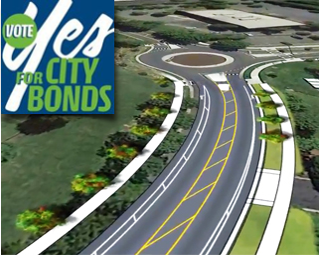 If voters pass Charlotte's bond referendum in November, University City will gain key pieces needed for our transit-powered future: better roads, sidewalks and bike lanes near our transit stations.
Three improvements could even change how we use bicycles: extra-wide sidewalks for both walkers and recreational cyclists, and two other kinds of bike lanes separated from car traffic.
The four related street improvement projects in University City are among 12 that the city has planned around the future LYNX Blue Line Extension between uptown and UNC Charlotte.
Collectively called the Northeast Corridor Infrastructure Program, or NECI, these projects are intended to aid local access to LYNX stations, whether by bus, car, bike or foot.
In University City, those projects will improve portions of Tom Hunter Road and Rocky River Road West near North Tryon Street, and all of McCullough Drive and JW Clay Boulevard.
Ice-breaking improvements for cyclists
While all projects will get sidewalks and bike lanes, three streets in University City will have special features to encourage cycling even by families and children.
On McCullough Drive between Harris Boulevard and North Tryon Street, the city plans to widen the two-lane roadway to allow a 5-foot-wide buffered bike lane that is separated from the vehicle lane by a 3-foot-wide painted strip.
On the north side of Clay Boulevard between the Clay Station Parking Deck and Doug Mayes Place, the city will add two features to help cyclists:
An oversized sidewalk 10-12 feet across that will provide ample room for both pedestrians and recreational cyclists.
A separate two-way bike path, also separated from the traffic lanes, for bike commuters and other avid cyclists.
Rocky River Road West will also have the 10-foot-wide sidewalk on the north side of the road for causal cyclists and pedestrians, along standard curbside bike lanes.
"These are all going to be ice-breaking," said Jim Keenan, program manager for the city's Engineering and Property Management department. "We do have some buffered bike lane on Remount Road, but these (on Clay Boulevard and McCullough Drive) will be pushing the edge for the kind of bike facilities we are installing."
The city initially had planned traditional bike lanes along Clay and McCullough, Keenan said. The new design grew out of a meeting with University City Partners, UNC Charlotte and cycling advocates, who pushed for more features to encourage cycling, especially near the campus and greenways.
2016 bond money will launch construction
Total cost of the dozen projects over a decade is estimated at $106 million, with money coming from four bond packages between 2014 and 2020. Bonds passed by voters in 2014 provided $16.6 million, used mainly for planning and design.
Construction on several projects can start by 2018 if voters approve this fall's bond package, which includes $35.3 million for NECI work.
Learn more at the Charlotte Bond Referendum website
Details of University City NECI projects
Tom Hunter Road streetscape improvements – Project includes street improvements, curb, gutter, sidewalks and bike lanes. Next step: real-estate acquisition. Project website
Rocky River Road West streetscape improvements – Project includes two-lane road with turn lanes, sidewalks and bike lanes. Sidewalk on north side of road will be 10 feet wide to accommodate casual cyclists and pedestrians. Project website
JW Clay Boulevard streetscape improvements – Improve existing four-lane roadway with median to include bike lanes and extra-wide sidewalks over its entire length between North Tryon Street and West W.T. Harris Blvd. Also install two-way cycle path on north side of Clay Boulevard between Clay Station parking deck and Doug Mayes Place (future connection to planned I-85 North Bridge). Project website
McCullough Drive streetscape improvements – Mostly a two-lane road with curb, gutter, sidewalks and 5-foot-wide bike lane and 3-foot wide painted buffer between bike and traffic lanes. The road will also get a median with pedestrian refuges for safer crossing on foot.
McCullough Drive Extension – Build a new two-lane stretch of McCullough Drive with sidewalks and bike lanes on the south side of North Tryon Street to allow traffic to continue from Tryon Street to East W.T. Harris Boulevard at Grande Promenade. Project website
• Watch a computer-generated roadway transformation of McCullough Drive
https://www.youtube.com/watch?v=J_MT2pErCVY