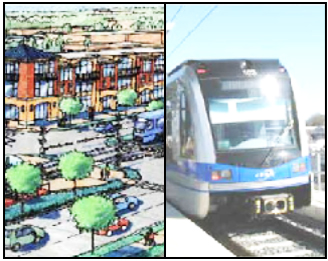 A new survey offers surprising and encouraging results about the potential for development near the Clay Boulevard light-rail station, says Tobe Holmes with University City Partners.
Among the surprises: Demand for 3-bedroom housing is "off the map," and the highest income group in Charlotte is couples with one person working uptown and the other in University City.
"I think it shows the power of University City being Charlotte's second largest employment center, and the high quality of its employers," said Holmes, UCP's planning and development director.
Both those numbers and a wealth of other data from the survey and other sources will help shape a development plan for the half-mile area around the JW Clay Boulevard Station and 800-space parking deck beside University Place.
University City Partners and six major property owners are creating the development plan for the area within a 10-minute walk of the light-rail station – ground zero for transit-oriented development in most parts of the country. The line between UNC Charlotte and uptown begins operation next summer.
Can this be our city center?
While the city of Charlotte can create incentives to encourage growth, the ultimate creators of a future town center will be the major property owners, private developers and investors – if they see the potential for profit.
The plan seeks to assess the best possibilities success and offer ways to maximize the potential development over the next decade by finding the ideal mix of shops, restaurants, offices, community services and housing – since each component affects the others.
Highly positive survey findings
What sorts of development might Charlotte residents support now and over the next decade? The new survey's results offer encouraging insights.
About 1,300 people completed the survey, which was designed by The Chesapeake Group, a company that specializes in community research and planning. People who answered the survey fit one of three groups: Living in the half-mile zone around the Clay Station; living elsewhere in University City; living elsewhere in Charlotte.
Among the key findings:
Income
The highest-earning households studied have one person working in Uptown and the other in University City. This group earns $137,000 annually.
Housing
40% to 55% of residents of University City and surrounding areas are likely to move within the next five years.
77% say they want 3 bedrooms or 2 bedrooms and an office or den in their next home.
Important factors in choosing their next home include:
Safety – 77%
Walkability in attractive comfortable areas – 66%
Having a mix of activities, housing and employment nearby – 35%
Close to light rail – 27%
Retail
Demand for retail in University City will grow 20% over the next 10 years – a $1 billion increase. People surveyed strongly prefer local, independent restaurants for both lunch and dinner.