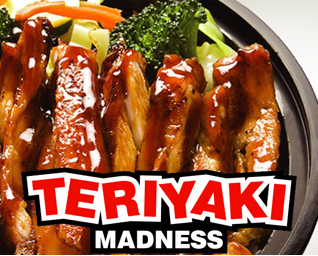 The fast-Asian restaurant Teriyaki Madness opened earlier this month at Cochran Commons shopping center near University Research Park. Ted Williams, the publisher of the online news source Charlotte Agenda, recently dined here to help people in uptown Charlotte get a preview of what to expect when their TM opens in 2017.
Did he like it?
Spoiler alert! He DID like the food. You can learn more by reading his report, "9 things you need to know about Teriyaki Madness."
Or just go and sample for yourself
The Denver-based restaurant chain features made-to-order rice and noodle bowls with homemade sauces and fresh-cut vegetables, reports Katherine Peralta of The Charlotte Observer.
The University City Teriyaki Madness is at 2700 W. Mallard Creek Church Road, Suite 200, in Cochran Commons.
Hours: 10:30 am-9 pm Mondays-Thursdays; 10:30 am-10 pm Fridays-Saturdays; and 11 am-8 pm on Sundays.
Visit its Facebook Page