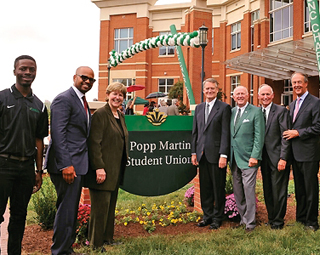 UNC Charlotte's Student Union has a new name, thanks to generous donations of both leadership and resources by two of the university's most successful alumni: attorney Karen Popp (Class of 1980), and business executive Demond Martin (Class of 1997).
The two were honored at the launch of the university's Exponential Campaign, held on Thursday afternoon, Sept. 22, in the newly named Karen A. Popp and Demond T. Martin Student Union.
"These two individuals embody just about everything possible for students who earn UNC Charlotte degrees," declared Erskine Bowles, former president of the University of North Carolina System in introducing them.
Popp and Martin worked with Bowles in the White House while he was chief of staff for President Bill Clinton. "UNC Charlotte opened doors for these two individuals, and they have opened doors for others," Bowles said.
Both Popp and Martin were elected UNC Charlotte student body presidents before going on to successful careers – law for Popp and accounting for Martin.
Popp was the first woman elected as student body president in the UNC system. A partner at Washington D.C.-based Sidley Austin LLP, her legal career has included prosecuting members of New York's crime syndicate families and serving as a White House counsel to President Bill Clinton. Popp currently is a member of the UNC Charlotte Board of Trustees.
"When I needed legal advice, I turned to Karen," Bowles said. "I knew it would be sound."
Martin, a partner in the firm Adage Capital Management, got his start at UNC Charlotte as a participant in the University Transition Opportunities Program, a rigorous academic program to help minorities get ready for college studies.
Neither his father, a mechanic, nor his mother, a factory worker, had attended college. When Martin was elected student body president as a sophomore, he was the youngest student to ever serve in that position.
Martin later served as an assistant to Bowles at the White house and lived with Bowles's family while serving under him. After his White House service, Martin graduated from Harvard Business School. Today he gives back to UNC Charlotte as a board member of the UNC Charlotte Foundation.
Martin met his future wife, Kia, at UNC Charlotte. They have established a fund at UNC Charlotte that awards scholarships to graduates of UTOP; juniors who have been accepted into the Teacher Education program in the College of Education; and juniors who have been accepted into the Belk College of Business.
"If there is anyone in the world who is just good, good to the bone, that person is Demond Martin," Bowles said.