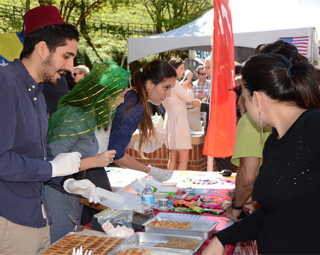 For 41 years, UNC Charlotte and thousands of people from throughout our region have gathered at the annual International Festival to celebrate cultural traditions from around the globe. This year's event, 10 am to 6 pm Saturday, Sept. 24, around the Barnhardt Student Activity Center, is expected to draw 20,000 guests.
50 nations in one location
As UNC Charlotte's longest-running cultural event, the International Festival attracts thousands to the campus for a full sensory experience, including the sights, sounds and tastes of more than 50 countries and cultures.
International Festival visitors should plan to spend several hours, or the entire day, wandering through tents of brightly colored displays, conversing with participants representing their countries and cultures, tasting authentic cuisine from around the world and soaking up the atmosphere of song, dance and story.
Sample food, arts, crafts and entertainment
The booths, arranged marketplace style, are staffed by UNC Charlotte international students and members of Charlotte's international community and feature art, crafts and costumes from each participating country. Many booths offer food for sale.
Throughout the day the music and dances of many nations will be presented on indoor and outdoor stages. In addition, the family-oriented festival will offer mimes, face painting and many other activities for children.
In addition to the hallmark elements, the International Festival includes an international games zone where people of all ages can take part in and learn the cultural significance of various games. Participants can learn the rules of bocce, play a game of life-sized chess, or join in a soccer match.
Want to go?
The UNC Charlotte International Festival is held in and around the Barnhardt Student Activity Center at UNC Charlotte's main campus at 9201 University City Blvd.