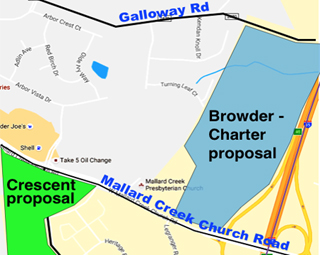 An apartment community and retail center are being proposed for nearly 66 acres between Galloway and Mallard Creek Church roads just west of I-85, The Charlotte Observer Reports. Meanwhile, Charlotte City Council will hold a rezoning hearing on Sept. 19 to consider allowing up to 300 apartments on Governor Royall Drive near Mallard Creek Church Road.
Both planned communities would provide housing and services for University Research Park as well as the broader University City region. The Crescent development lies within University Research Park. The Browder-Charter proposal is directly across Mallard Creek Church Road from the research park.
Details of proposed mixed-use center at I-85
Browder Group Real Estate and Charter Properties seek a rezoning to allow up to 160,000 square feet of retail space and 395 apartments on their site, with the retail center fronting Mallard Creek Church Road and the apartment community located near Galloway Road.
A new public street and extension of Galloway Road would run through the site, The Observer reports. No date has been set for the rezoning hearing.
Learn more
Details of proposed apartments on Senator Royal Drive
Crescent Communities seeks a rezoning of about 37 acres along the west side of Senator Royal Drive for up to 300 apartments in place of the current zoning, which allows up to 250,000 square feet of offices.
In 2011, the city rezoned this property as part of a larger mixed-use development by Crescent called Crescent Alexander Village that included offices, housing, a hotel and retail space.
Crescent built the 312-unit apartment community, which fronts both Mallard Creek Church Road and Senator Royall Drive. Last year, Crescent sold the apartment community for $52.3 million.
The new rezoning carries over the original plan's retail uses, which allow a 200-room hotel and up to 75,000 square feet of retail space along Mallard Creek Church Road at Senator Royall Drive. Crescent also said the development will have a new name: The Village at Research Park.
In a community meeting about the project held on Aug. 4, a representative for Crescent said that the developer anticipates that the retail center would include a specialty grocer, restaurants, retail shops, a hotel and possibly a health and wellness use. The uses would be designed to be easily accessible to the existing residents and office workers of the research park as well as the new residential community.
Crescent also presented its plans to representatives of University Research Park and University City Partners on July 18.
The City Council zoning hearings are held at the Charlotte-Mecklenburg Government Center, 600 E. 4th St. Hearings will start at 6 p.m. on Sept. 19.
Learn more