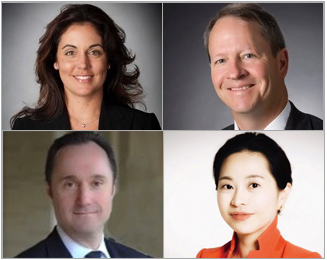 University City Partners welcomes four new members to its board of directors, including two UNC Charlotte grads.
Tracy Dodson with Lincoln Harris, John McAlister with Electrolux, Phil Nicholenko with TIAA and Jane Wu, founder of Carolina States Regional Center, have begun terms on the board.
Thanks to our outgoing board members
We offer a sincere thank-you to three people who recently completed their terms: Olen Smith, former president of the University Research Park; Vickie Pennington, president and owner of EMCI Ltd., Electrical and Cabling Services; and Jeremy Drier, corporate communications senior manager for the Electric Power Research Institute (EPRI). Dreir will continue to help UCP as a member of our Planning and Development Committee.
New board leadership
The 2016-17 board also has new leaders.
Chair – Stuart Parks, owner and managing principal of The Arden Group, succeeds Bob Wilhelm, vice chancellor for research and economic development at the Charlotte Research Institute of UNC Charlotte.
Vice Chair – Tracy Dodson, vice president of office services for Lincoln Harris, succeeds Parks.
Secretary – Michael Barnes, attorney at law, Barnes Law Office, succeeds Smith.
More about our new board members
Here are brief bios of our new board members. Learn more about University City Partners and its leadership team at UniversityCityPartners.org
Tracy Dodson – Vice president, brokerage and development, Lincoln Harris. Dodson assists the brokerage team with leasing office space and works with the development team on early development coordination of office and mixed-use projects, including strategic planning and entitlements.
She also serves on the Charlotte-Mecklenburg Planning Commission and the NC Transportation Board.
Dodson earned bachelors' degrees in psychology and architecture at UNC Charlotte and a master's degree in design studies from Harvard.
John McAlister – Director of government relations, Electrolux North America – McAlister coordinates initiatives that enhance the Electrolux brand and reputation.
He has 30 years of experience in public policy and government relations, and has worked previously for Duke Energy, the NC Chamber of Commerce and Bank of America.
Phil Nicholenko – Vice president, corporate services, TIAA – Nicholenko manages several enterprise support functions at TIAA including corporate real estate, construction, facilities management, strategic space planning, lease administration, corporate travel services, life safety and physical security.
Prior to joining TIAA, Nicholenko was a senior manager and principal consultant with PricewaterhouseCoopers. Nicholenko earned a BS degree in accounting from the University of Central Florida.
Jane Wu – Principal, Carolina States Regional Center – Wu initiated the Carolina States Regional Center, which is developing several projects in the greater Charlotte area, which total of more than 1 million square feet. A veteran investment professional, Wu joined Wells Fargo Securities to underwrite/source deals worth more than $1.1 billion, exclusively for large-cap clients.
She is the founder of the North America Chinese Chamber of commerce and serves as its chairperson and president. Wu holds a master of financial engineering degree from UNC Charlotte.