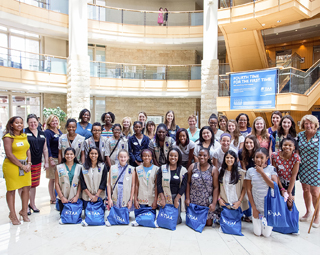 Dozens of middle- and high-school Girl Scouts visited TIAA's University Research Park campus on July 11 to learn about career opportunities and the work of several community organizations, including University City Partners.
The program included presentations by female leaders from within TIAA regarding various functions of TIAA such as human resources, legal, accounting, sales, marketing, internal audit and corporate social responsibility.
Representatives of 10 community organizations, including Darlene Heater, executive director of University City Partners, joined the TIAA-Girl Scouts program for lunch and shared their organizations' objectives and impact in our community. For instance, University City Partners provides support for University City Connect, an effort by area businesses to support the four public schools that comprise the Governors Village in University Research Park.
TIAA is also a member of University City Connect and invested hundreds of volunteer hours in Governors Village schools in the 2015-16 school year. One program on personal finance, Vault – Understanding Money, involved TIAA volunteers visiting fourth- and sixth-grade classrooms at Nathaniel Alexander Elementary School and James Martin Middle School to reinforce classroom lessons on topics ranging from Responsible Money Choices to Income and Careers.
In April, TIAA was among 35 institutions nationwide honored at the second annual Innovation in Financial Education Awards, presented by NASDAQ and Everfi. The award recognizes TIAA's significant efforts to improve the financial capability of Americans through unique digital learning initiatives.