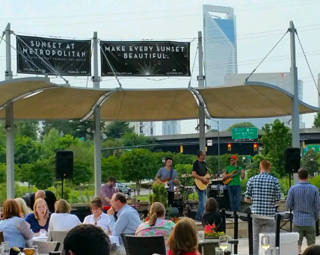 If voters say yes this fall, Charlotte and Mecklenburg County will build the region's most ambitious greenway trail, a 26-mile path linking UNC Charlotte, NoDa, Uptown, Freedom Park and Pineville. The game-changing potential of the Cross Charlotte Trail has inspired University City Partners to explore an equally bold idea. The first baby steps start in August.
The idea: Plant seeds for a greenway-focused urban center, focused on existing retail centers beside the future Cross Charlotte Trail.
The baby steps: A planning charrette later this summer sponsored by University City Partners, led by one of the region's premier urban planning firms, and involving key property owners, retail and apartment developers and government staff.
The hoped-for outcome? A bold vision and concrete examples that might inspire a future developer, says Tobe Holmes, who oversees UCP planning and development initiatives.
"The Cross Charlotte Trail will be a tremendous asset adjacent to anything it touches," Holmes says. "With that in mind, we are thinking about particular shopping centers along University City Boulevard near Toby Creek and how we can create synergy there based on trail-oriented development."
A 'Shining Example' is nearby
You don't have to travel far for a "shining example," Holmes says. Just look at the Metropolitan urban retail-residential development beside Little Sugar Creek Greenway near uptown Charlotte, where restaurant patios overlook the creek and the greenway often fills to overflowing with hikers and bikers.
A decade ago, the 10-acre site was covered with an empty 1950s shopping mall, an old movie theater and several acres of asphalt. Little Sugar Creek ran mostly out of site beneath the parking lots and streets.
A massive creek restoration project cost more than $40 million but so far has generated three times that amount in new private development while greatly improving what had been North Carolina's most polluted stream.
"We are not looking to build the Metropolitan here," Holmes says, "but it shows than an adjacent greenway with the right enhancements can help the viability of a mixed-use center."
Green gateway to University City – Toby Creek
The University City Partners charrette will look at a half-mile stretch of Toby Creek as it leaves the UNC Charlotte campus and passes between two retail centers housing Target and Lowe's.
Toby Creek Greenway through the UNC Charlotte campus is one of eight county greenways that will provide major pieces of the Cross Charlotte Trail, a joint effort of the city of Charlotte and Mecklenburg County. If Charlotte voters approve $30 million in municipal bonds for the project in November, the city will work with the county to connect and extend those eight greenways between University City and Pineville. Construction is expected to take 10 years.
Separately, Mecklenburg County currently is extending Toby Creek Greenway through the charrette study area and on to the Autumnwood neighborhood near Lower Rocky River Road.
The charrette process and outcome
University City Partners has hired Alta Planning and Design, a well-known bike and urban planning firm, to conduct the two-day charrette and compile the results. Perhaps a quarter of the time will be spent gathering examples of successful public-private partnerships, Holmes says.
Most of the remaining time will be spent considering urban-trail enhancements that can make the University City crossing a vibrant destination on the Cross Charlotte Trail.
"It'll be kind of pie in the sky: Here are all the things we can do. Now let's take two-three of those ideas and design around them pretty hard," Holmes says. "So, if we decide to focus on public seating, art and natural habitat, we will design around that and figure out what it would look like if we had seating inside of natural spaces within the trail."
Preparing for the future
While this initial planning charrette will involve a small group, Holmes said there will be significant public involvement "when we actually get into a position of designing space." Holmes says that the long-range goal of the charrette is to inform any future developers of this group's vision for the site and the route by which it can be achieved. "The development will be market driven. We are not naive about that. But we want something in hand when the trail is being constructed and there starts to be developer interest," Holmes says.
Learn more
To learn more about the University City Partners planning charrette, contact Planning and Development Director Tobe Holmes at 704-688-2483 or tholmes@universitycitypartners.org
Other resources: