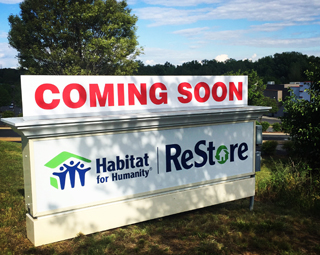 Habitat for Humanity ReStore, one of Charlotte's most unusual – and helpful – retail operations, is opening its newest store on June 18 at 8104 University City Blvd. Unusual, because each ReStore offers a constantly changing selection of furniture, appliances and more, most of it donated. And helpful, because Charlotte ReStore profits have funded over 140 Habitat for Humanity homes.
The ReStore "is the ultimate in responsible recycling," says Phil Prince, head of marketing and communications for Habitat for Humanity of Charlotte, which operates the organization's ReStores. "Someone donates their gently used items, others come here and pay for them, they get reused and the proceeds help build a new home for a low-income family to purchase."
The University City ReStore will open in the former World Market store, about a half mile from UNC Charlotte, surrounded by off-campus student housing and located at the traffic light for both the Target and Home Depot shopping centers. Habitat chose University City because of our large population and continued growth.
The former World Market building and its high-visibility, high-traffic location near campus "were like an answer to prayer," Prince said.
What exactly is a ReStore?
Think of the ReStore as an old-fashioned department store, minus the clothing, and carrying mostly donated merchandise (but some new, too). Each Charlotte ReStore carries an extensive selection of home furnishings, appliances, building supplies, carpets and more. A third of ReStore's merchandise is furniture. Nearly all is donated by individuals and businesses.
One University City hotel undergoing a major remodeling a couple of years ago donated the furniture from its 300 guest rooms. On another occasion, one individual donated 10,000 books and the shelves to hold them. You never know what you'll find there. Unusual donations in the past have included a 16-foot sailboat, a jet ski and even a log cabin.
Fine furniture, too
Some people donate artwork and furniture that could easily fetch good prices at antique stores and high-end consignment stores. "We do get some fine-furniture donations," Prince said, showing us a well-preserved pie-crust table made in the early 20th century by the Stickley company of central New York. ReStore staff often refer to eBay to help them set prices.
Habitat ReStores sell some new items that area businesses have either donated or sold to them at below-wholesale prices, such as scratch-and-dent appliances. ReStore also buys and sells a limited number of new items, such as mattresses from a SC maker that offers good quality at a modest price, and overstocks of tile and laminate flooring that ReStore can buy at a low price.
Each ReStore is unique
Ours is the third Charlotte ReStore, with others at 1133 N. Wendover Road and 3326 Wilkinson Blvd. Each store has unique selections of merchandise, based on the donated goods. The Wilkinson Boulevard ReStore carries the most extensive selection of used and scratch-and-dent new appliances.
If you like books and recorded media, you definitely need to visit Julia's Café & Books, at the Wendover ReStore location. Julia's gets about 30,000 donated books, CDs, DVDs, records and tapes each month and sells them here. Like the ReStore, Julia's is also a fund-raising resource whose profits are directed to Habitat's affordable housing mission.
Look for the University City ReStore to offer a large selection of gently used books, too, Prince says.
Have items to donate? Here's how
First, check charlotterestore.org to see if ReStore can use your items. ReStore takes a wide range of merchandise, but not everything. Among items it cannot accept are clothing, baby items, electronics and playground equipment. If you have questions about items to donate, call the donation hot line, 704-392-4495.
Bring your smaller items directly to the drop-off area at any of the ReStore locations. Staff and volunteers can help you unload your vehicle, and you'll get a blank receipt that you can use for your taxes, since donations are tax-deductible.
People who have large items or who cannot bring their donations to ReStore can arrange a pickup by calling the donation hot line, 704-392-4495.
You can even donate kitchen cabinets
We were surprised to find several donated kitchen cabinet sets and granite countertops for sale at the Wendover ReStore, including a retro design from the 1960s. If you are planning to remodel your kitchen and want to donate your old cabinets, the ReStore Deconstruction Team will come to your home and remove the old cabinets at no charge.
Come to the grand opening on June 18
University City ReStore, 8104 University City Blvd., will have its grand opening 9am-6pm Saturday, June 18. There will door prizes and other surprises throughout the day.
During that morning, Joe Gibbs Racing will bring its No. 18 M&Ms show car – the fan-favorite replica of the one Kyle Busch drove last year to win the NASCAR Sprint Cup Series.
Learn more at charlotterestore.org or call the store at 704-716-3150.