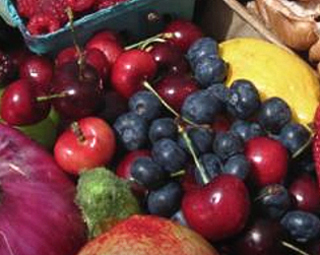 Yearning for fresh-picked corn and tomatoes? University City's four farmers markets have those standards (when in season) plus so much more, from specialty mushrooms and free-range chickens to fresh seafood and kale chips.
Here's the scoop on weekly markets at Highland Creek, Newell, Carolinas Healthcare System University and Innovation Park. Yum!
Newell Farmers Market
9 am-1 pm Saturdays. 1704 Rocky River Road (at the railroad tracks).
University City's oldest farmers market is a mother-daughter operation by Nancy Newton (mom) and Debbie Zufall (daughter). From mid-spring to late fall, the market features plenty of fresh fruits and veggies.
Throughout the year, the market also offers such local specialties as pickled vegetables, jam, butter, eggs, chicken and freshly caught Carolinas seafood and shellfish.
Directions: From North Tryon Street, travel southeast on W.T. Harris Boulevard about 3 miles to the Rocky River Road traffic signal. Turn right and go about a mile to the dead end near the railroad track.
Highland Creek Farmers Market
4-7 pm Wednesdays – 7171 Highland Creek Parkway in the Golf Club parking lot.
Charlotte's largest community has a doozy of a farmers market, too. The many venders include Cold Water Creek Farms (organic produce), Sunny Side Egg (quail, free range chicken and duck eggs), Rocking Bee Farms (third-generation bee keepers) and Dover Vineyards of Concord.
Farmers Market at Carolinas HealthCare System University
3:30-6:30 pm Thursdays – 8800 N. Tryon Street on the hospital grounds.
This year's market opens on May 19 and features many more venders than last year.  Among the vendors: Allee Bubba Farms of Concord (wide selection of organic fruits and vegetables, plus pecans, walnuts and turkey), Fish On Seafood Company (bringing fresh fish and seafood from the coast to inland Charlotte), Orrman's Cheese Shop (local and regional cheeses, with store in 7th St. Station) and Urban Gourmet Farms (farm-fresh local mushrooms).
Vendors accept EBT cards.
iFarms at Innovation Park
10 am-3 pm Thursdays – Near the Central Park parking deck at Innovation Park, 8585 IBM Drive.
Locally grown produce and other good stuff, including fresh-cut flowers, baked goods and food trucks during lunch hours. Open to the general public. For directions, follow the map below.