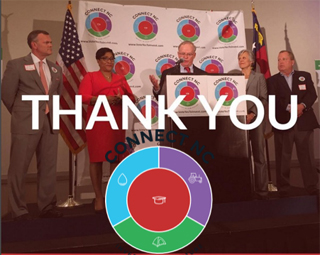 UNC Charlotte and all other schools in the UNC system won big in the March 15 primaries, as NC voters approved $2 billion in bonds for infrastructure improvements statewide. The bonds include $90 million for a science building at UNC Charlotte, the state's fastest growing university.
"This vote reaffirms the commitment of the voters of North Carolina to higher education," said Chancellor Philip L. Dubois. The Connect NC bond package received strong bipartisan support, with two-thirds of voters statewide voting in favor.
Bonds will help colleges, parks, water and more
The $2 billion in bonds includes $980 million for constructing new academic facilities and other improvements across the UNC system. Community colleges, state parks, local water and sewer systems and public-safety departments also will benefit.
In the weeks leading up to the March 15 primary election, Dubois attended a number of regional meetings to advocate for the bonds and what they mean to the future of public higher education in North Carolina.
UNC Charlotte will replace outdated science building
The new science building has been needed for UNC Charlotte to continue the trajectory of growth the campus currently enjoys, Dubois said. UNC Charlotte has grown from 11,000 students to 28,000 since the current Burson science building was built in 1985.
Half of all UNC Charlotte students with declared majors are seeking degrees in science, technology, engineering or math – the so-called STEM fields that are considered crucial for America's global competitiveness.
The Connect NC bonds will build or expand several STEM-related buildings across the UNC system, including the new science building here. "The real winners are the students who will come to UNC Charlotte and the employers who will benefit from their skills and knowledge," DuBois said.