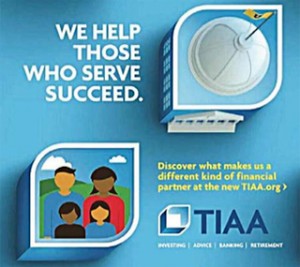 One of our biggest employers in University Research Park has a new name. TIAA-CREF is now, simply, TIAA. "The shortened name is the culmination of a multi-year journey that places simplicity, clarity and engagement at the center of the customer experience," said a company release. TIAA also launched a redesigned website, TIAA.org, and new logo.
"This is more than a name change; this is a game change," said Connie Weaver, chief marketing officer at TIAA.
An award-winning global asset manager with $854 billion in assets, TIAA is the leading provider of financial services in the academic, research, medical, cultural and government fields, and offers a wide range of financial solutions, including investing, banking, advice and guidance, and retirement services.
The new name takes the organization full circle from 1918, when TIAA was founded through the vision of Andrew Carnegie to make a difference in the lives of teachers.
"We stepped back and listened to the people we serve, who they are and what they need," Weaver said of the intense process that led to the new company name. "We know that everyone defines success on their own terms, and we help them evolve and change that definition over time. Our brand today is about meeting our customers wherever they are on that journey to success, and helping them meet their needs and navigate their financial lives in a simple, clear way, with straight talk instead of jargon or legalese."
The name leverages TIAA's esteemed heritage as a mission-driven organization while becoming easier to say, type and remember.
The redesigned TIAA.org is easier to use, with faster access to information, and simple, direct language complemented by clear, illustrative images. Content and tools geared toward different life stages are front and center, so visitors are quickly directed to the information they need the most and encouraged to learn more.
A new emphasis on customer stories lets visitors see how TIAA has helped real people like themselves build financial security.