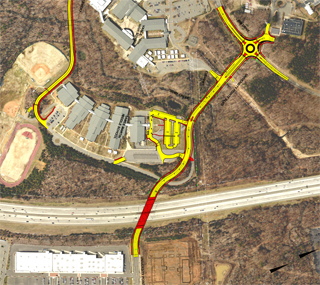 By spring 2017, a new I-85 bridge will link the massive Wells Fargo and Innovation Park employment centers to the LYNX light-rail line and nearby IKEA, WalMart and Belgate retail centers.
The two-lane extension of University Pointe Boulevard will connect IKEA Boulevard to IBM Drive in University Research Park. Blythe Construction began work on the $17 million project in late November. Grading is under way through spring. Construction of the overpass over I-85 also has begun.
The two-lane road and bridge over I-85 will serve several purposes:
Provide URP access to the future Blue Line Extension station at McCullough Drive and the adjacent 1,514-space parking deck.
Shift some traffic away from University City and West W.T. Harris Boulevards.
Give cyclists and pedestrians a safe, direct path over I-85. The new road will have bike lanes and sidewalks but no interchange with I-85.
Voters approved funding for the project in the 2014 city bond package, as well as planning money for a similar bridge over I-85 between URP and the LYNX transit station at University Place.
Funds to build the second bridge are expected to go before voters in 2018. If voters approve the bonds, work would start about 2020 on the I-85 North Bridge between Doug Mayes Place and Louis Rose Place.