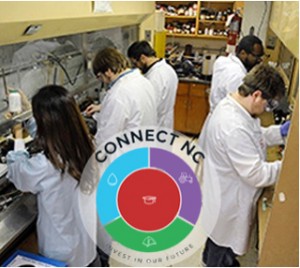 The state's fastest growing university and largest community college both win if NC voters approve $2 billion in bonds on March 15. UNC Charlotte would receive $90 million for a new science building, while CPCC would get $9.6 million for land and facilities. "This is a critical moment at UNC Charlotte," says Chancellor Philip Dubois.
Dubois recently addressed the Charlotte Regional Partnership on the economic benefits of the statewide bond program, Connect NC, that will come before voters for approval on March 15.
The Connect NC bonds would provide the first sizeable funding for state infrastructure improvements in 16 years, during which time the state population has soared 25%.
Big boost for higher education statewide
Higher education would get two thirds of the money, with CPCC and other community colleges receiving $350 million for facilities and UNC campuses sharing $980 million – including funding for UNC Charlotte's proposed new science building. Bond promoters say such spending is crucial for educating and training workers for globally competitive NC businesses in science and technology.
"We have outgrown our current science building," Dubois told members of the Regional Partnership. "Enrollment has increased by 142 percent since it was built and 76 percent since the last bond for high education construction was passed (in 2000)."
UNC Charlotte now accounts for 61 percent of the growth of the UNC system between fall 2009 and fall 2015, he added, and many of those new students are seeking degrees in science, technology, engineering and math programs.
Burson Building bursting at the seams
The university's primary science facility, the Burson Building, was erected in 1985 when enrollment barely topped 11,000. UNC Charlotte today as 28,000 students including 5,200 graduate students. Half of current students with declared majors are in science, technology, engineering and math programs.
Current lab space is inadequate to support the undergraduate and graduate teaching programs alongside the university's research programs, university leaders say. Renovating Burson with modern labs and other facilities would cost $24 million without providing any additional classroom space.
The new building would provide classrooms and undergraduate teaching laboratories and graduate research space for students in physics, chemistry and biology.
CPCC and UNC Charlotte have close ties
The Connect NC bonds would also provide $9.6 million for facilities and land at two of Central Piedmont Community College's seven campuses: Central Campus downtown and Merancas Campus in Huntersville.
The CPCC system serves more than 57,000 students, including about 5,000 at the Cato Campus about 3 miles south of UNC Charlotte on East W.T. Harris Boulevard.
The two schools have close ties. About 1,000 CPCC students earned enough credits in 2015 to transfer to four-year schools in the UNC System. Nearly two-thirds chose UNC Charlotte, with biology one of the favorite majors among transfers.
"CPCC is excited about the bond prospects for UNC Charlotte," says Jeff Lowrance, CPCC's public information officer. "New facilities at UNC Charlotte ultimately will benefit many of our students because so many transfer to the university."
Key voting dates
February 19, 2016 – Last day to register to vote
March 3-12, 2016 – Early voting period
March 15, 2016 – Election Day
Learn more about Connect NC bonds