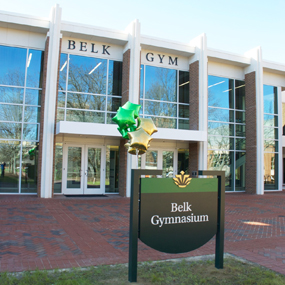 The heart of 49er Spirit has been reborn. On Jan. 11, more than 100 people including the coach and members of the first championship men's basketball team gathered on a gleaming gym floor to celebrate the nearly $20 million transformation of Katherine and Tom Belk Gymnasium – you know, The Mine Shaft!
"I think you can tell from this room alone that the results are spectacular," Chancellor Phil Dubois told the crowd during the brief ceremony, ribbon cutting and building tour.
Winning traditions started here
Among the people who came to savor the moment, relive fond memories and pose for photos were the university's first basketball coach, Harvey Murphy, and three of his players – Norris Dae, Stanley Graham and Spencer Singleton.
Most of UNC Charlotte's 4,000 students could fit in Belk Gym when it opened in 1970 – the same year that Coach Murphy and star forward Dae led the 49ers men's basketball team to their second straight Dixie Conference championship. Dae's 417 rebounds that season still stand as a school record.
The rapidly growing university has made good use of Belk Gym over the years, housing women's basketball and volleyball here through the 1990s and, since then, serving as a hub for student recreational services and the administrative home of Recreational Services and the Department of Kinesiology.
Vastly improved fitness space
The just completed transformation and improvements to the nearby Barnhardt Student Activities Center will help UNC Charlotte meet the health and recreation needs of a student body seven times bigger than when Belk Gym opened 46 years ago.
Belk Gym's upgrades include more than 8,000 square feet of dedicated fitness space, refinished basketball courts, modern lobby and visitor amenities and a renovated 25-meter swimming pool. The Recreational Services staff oversees a wide range of group fitness classes, sports clubs and intramural sports activities.
Upgraded Kinesiology Department classrooms, labs and offices
The 1,300-student Department of Kinesiology – which Coach (and Dr.) Murphy also chaired – has received a timely and dramatic upgrade and expansion of its facilities. Enrollment has nearly doubled in the last five years, with students earning degrees in athletic training, exercise science, respiratory therapy, neurodiagnostics and sleep science.
The Belk Gym renovations have included nearly 100 seats in high-tech classrooms; enhanced and expanding lab facilities; completely redesigned and improved department offices; and several lab upgrades.