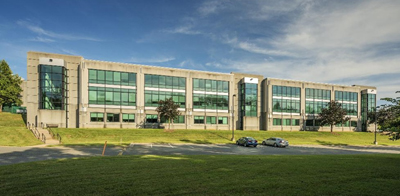 Chicago-based investment group Origin Capital Partners is adding a $4.2 million parking deck to its largest Charlotte property – fully leased Cambridge Corporate Center.
The two-story deck will hold 475 cars and cost $4.2 million. The deck should be finished next July, says Parker Melvin with Stream Realty.
Red Ventures leases 98,000 SF
The deck is needed to accommodate the hundreds of new employees that new tenant Red Ventures plans to hire. The rapidly expanding Internet marketing company leased nearly 30% of the 339,000 SF Class A office building last year.
The SC-based tech company has announced it plans to add 500 employees in Charlotte and invest more than $5 million on renovations and equipment at the center.
Cambridge Corporate Center is located at 10101 Claude Freeman Drive, near Mallard Creek Church Road. Origin Capital and Stream Realty Partners purchased the building in 2014 for $43.5 million. The second largest multi-tenant office building in University Research Park was about 86 percent leased at closing.
At the time of the sale, Patrick Gildea of CBRE, who helped represent the sellers in the deal, said that "the Northeast submarket (of Charlotte) has witnessed arguably the strongest recovery of any submarket in Charlotte Post -recession." He cited the office vacancy rate in the University submarket falling from 25.2%  in 2012 to 12.1% in summer 2014.
Origin Capital's own research showed a strong office-market rebound under way in Charlotte and strong potential for continued growth. Its 2016 Emerging Trends in Real Estate report pegs Charlotte as No. 3 nationwide for real-estate investments.
Origin buys One University Place
Origin Capital has since added two more office buildings to its Charlotte portfolio – most recently One University Place last November. The 4-story office building overlooks the lake at University Place and is within a half-mile walk of the future light-rail transit station at Clay Boulevard. Tom Briney, Origin vice president of acquisitions for the Southeast, cited that transit connection in announcing the $6.7 million purchase last November.
"There is a tremendous amount of upside with light rail coming in," Briney said. "We believe in transit-oriented development and specifically in the power of trains to ease congestion and improve residents' quality of life."
The company was also drawn by the nearby amenities and the lack of similar multi-story office buildings nearby. The company plans to make major improvements, including to the building lobby, corridors, elevators and restrooms.
Trinity Partners is handling leasing.