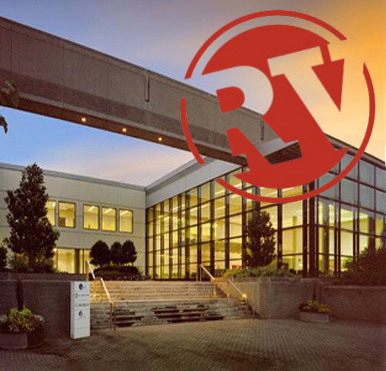 More than 1,000 jobs appear to be coming to University Research Park and UNC Charlotte, based on announcements by Red Ventures, TTI Floor Care North America, Republic Services and Sealed Air Corp. Red Ventures alone said it will bring 500 workers to its new offices at Cambridge Corporate Center, where it leased 97,599 SF in July.
Red Ventures
Marketing and technology firm Red Ventures announced last week that it will add 500 jobs to its University City offices, a move that almost doubles employment there. The Charlotte Chamber said the company will lease space in Cambridge Corporate Center at 10101 Claude Freeman Drive in the University Research Park for its Charlotte expansion. Red Ventures will invest more than $5 million in building improvements and equipment.
Red Ventures leased 97,599 SF at Cambridge Corporate Center in July. Cambridge Corporate Center is a 339,000 square foot office center located in the heart of the University Research Park (URP).
Red Ventures already employs more than 500 URP's Environmental Way building on Louis Rose Place. Founded in 2000, privately held Red Ventures has is headquarters just south of Charlotte in Indian Land, S.C. The company employs more than 2,800 people and plans to add software developers, analysts, information technology specialists and sales agents.
TTI Floor Care North America
TTI Floor Care North America, maker of Hoover, Dirt Devil/Royal and Oreck floor-care products, has leased 60,000 sf at Innovation Park. The company announced in July that it will open a Center for Marketing and Innovation in Charlotte, creating 200 jobs in Charlotte over the next two years and investing up to $5 million.
TTI Floor Care N.A. is a global leader in consumer and commercial floor care appliances including upright vacuum cleaners, carpet washers, hard floor cleaners and handheld vacuums.
Compensation will vary by job function, but the average annual compensation for the new positions is expected to be approximately $103,618 plus benefits.
"We chose Charlotte because it provides access to talent with the critical consumer products expertise needed to fuel the growth of our iconic brands," said TII President Gary Scott at July's announcement.
Innovation Park's 1.9 million sf of space is now 98% leased. Tenants at the former IBM manufacturing facility now include Allstate Corp., AXA Equitable and Wells Fargo & Co.
Republic Services
Republic Services Inc., the second-largest provider of waste services in the U.S., has signed a lease for 82,375 square feet at Three Resource Square in University Research Park, the Charlotte Business Journal reported recently.
The Arizona-based company will move into the space in April and plans to create a call center at Three Resource Square.
The Business Journal estimates that the center has room for up to 400 employees. The move will take most of the remaining space at the Class-A office building at 10815 David Taylor Drive.
Republic Services already operates a landfill at Charlotte Motor Speedway. In 2012, Republic Services, Duke Energy and FORTISTAR opened a landfill gas-to-energy plant that makes commercial deliveries of renewable power to Duke Energy. The facility uses trash to generate enough fuel to power more than 7,700 homes.
Sealed Air Corp.
Another company expanding its presence in Charlotte is leasing temporary research space at UNC Charlotte's PORTAL Building in the Charlotte Research Campus.
UNC Charlotte has reached an agreement with Sealed Air Corp. to lease temporary research and development space and office space at the University's PORTAL building.
The partnership calls for the University to house the company's research and development personnel for 18 months or longer. The arrangement provides temporary work space for the company's researchers while a permanent facility is being built in Charlotte.
"One of the reasons Sealed Air is moving to Charlotte is its strong reputation for technology and innovation. In addition to allowing us to house newly hired and specially selected R&D staff, PORTAL provides an ideal collaborative workspace conducive to continuing our research and development work while construction on our new facility is completed," said Robert Tatterson, vice president of research and development for Sealed Air.
University officials said the agreement advances UNC Charlotte's standing as North Carolina's urban research university. It also is a tangible illustration of the University's commitment foster partnerships with private industry.
The four-story, 96,000-square-foot, PORTAL building sits on a prominent site at the entrance of the Charlotte Research Institute campus. The facility was designed to stimulate business growth and job creation along with promoting research and innovation. There is nearly 30,000 square feet of office space available for companies who want to locate on campus.
Compiled from news reports by The Charlotte Business Journal, the Charlotte Observer and UNC Charlotte