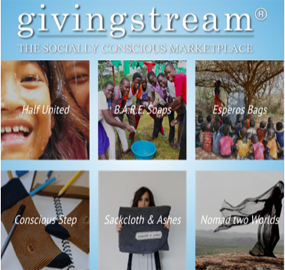 Looking for a unique gift that will share some warmth? Help educate a child? Improve health in the Third World? Givingstream, an online store with strong ties to University City, invites us to visit, learn and, hopefully, buy gifts that give back. "Our idea was to create this really cool shopping experience where people can buy goods and do good at the same time," says co-founder Genia Rogers.
Through its online shopping site as well as event sales, Givingstream promotes the products and missions of a wide selection of conscious retailers. Each company provides a share of its revenues or profits to support a particular mission.
Choose from among several neckties, for instance, and Knots Apparel Co. will donate 50% of the profit to help end the water crisis in central Nicaragua. Buy an Esperos backpack or tote, and the company will donate 10% of the purchase price to help fund a child's education in the Third World.
Your purchase can help in Charlotte, too. Just in time for winter weather, Givingstream is partnering with blanket retailer Sackcloth & Ashes to help Charlotte's homeless. For every blanket you buy through Givingstream, Sackcloth & Ashes will donate one fleece blanket to area charities for distribution to their homeless clients.
A different way to help nonprofits
Rogers says that the idea for Givingstream came out of her background in finance, her work with nonprofit groups, and her family's strong belief in helping others. Her husband, University City businessman Rob Rogers, has been the driving force behind University City Connect, which seeks community support for the four Governors Village schools in University Research Park. (See related article)
Genia Rogers says that most nonprofits depend on donations but would love additional ways to generate income. She also knows several people who make unique and desirable products. "What if I connected the purchase of those products to being able to give back to a nonprofit?" she says.
Her son, Hunter, suggested taking that idea a step further. "He was aware of many socially conscious products that were coming out, and that is where we came up with this marketplace," Rogers says.
Choosing the right products
The next step was to find the right businesses and products to feature through Givingstream. "What these businesses have in common is some type of give-back in their business model," Genia says, "and their products are high quality and really desirable.
"We try to find those items that we can't wait to get our hands on and hope that other people will feel the same way. "This puts generosity into our everyday. And these items make incredible gifts, because there is a story attached to every one."
On line or even in your house
The quickest way to learn more about Givingstream is to visit givingstream.com. The simple and efficient website has profiles on Givingstream and its partner retailers, plus a shopping area to buy their products.
Givingstream also sells its merchandise through "popup" shops – temporary mini-retail stores that can operate at an event or in a temporary leased space with other popup shops.
Host a trunk show to help YOUR favorite cause
You can even partner with Givingstream to stage a trunk show at your home or group event. These shows can help you promote your own special cause, Rogers says.
"We can set up a really cool display and shopping experience in someone's home," she says. "We have invitations that they can blast out through email and social media to invite friends and family. For two-three hours or a day, everyone comes together to shop."
Event hosts can choose to donate 10% of the day's proceeds to their favorite nonprofit group, Rogers says, or use that money to buy products from Givingstream.
• Learn more about hosting an event – For details on sponsoring an event, contact Givingstream at 704-919-1680 or info@givingstream.com.
Details of the One for One Charlotte Blanket Drive
Charlotte has an estimated 2,000 homeless people, nearly half of whom are families with children. Givingstream has launched its One-for-One Charlotte Blanket Drive to provide blankets for our homeless neighbors. Simply go to Givingstream.com and buy one or more Sackcloth & Ashes blankets. For each blanket you buy, Sackcloth & Ashes will donate a fleece blanket, which will be distributed to homeless residents by the drive's two partner nonprofits: Urban Ministry Center and Charlotte Rescue Mission.