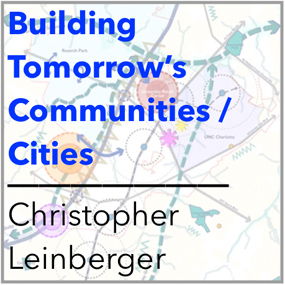 With LYNX light-rail construction crews going full bore on North Tryon Street, University City Partners staff and board are busy setting the stage for walkable urban developments near future stations.
The board recently invited a top New Urbanism expert, Chris Leinberger of the Brookings Institution, to share how cities from Boulder to Bethesda have made the transition, with great success.
He praised UCP's role and told the board, "Go, visit and learn from the first wave that has gone before you."
America's best walkable urban places include:
Bethesda's Pike & Rose – "one of the best examples of strip-mall conversion to walkable urban."
Belmar – Boulder, Colo.'s former Villa Italia regional mall, "the best retail center conversion in the country." Belmar generates four times the tax revenue of the old mall at its prime, reports the Urban Land Institute.
Similar projects in Alpharetta, Ga.; Bellevue, WA.; Arlington, Va.; Tempe, Arizona (home of Arizona State University); and Ann Arbor, Mi. (home to University of Michigan).
"Visit these models," Leinberger told UCP leaders. "These people have paid the Dumb Tax before you, so go learn from them, particularly the universities."
Featured speaker at UCP board retreat
Leinberger addressed the board at its annual retreat on Aug. 13 at the EPRI offices in University Research Park. Several city and county staff also came to hear Leinberger, a global expert on walkable urban communities.
At the Brookings Institution, he focuses on research, strategy and management of walkable urban places. He also is founding partner of Arcadia Land Company, a New Urbanism/transit-oriented development firm dedicated to land stewardship and building a sense of community.
Following his morning presentation to the UCP board, Leinberger also addressed the Urban Land Institute Charlotte chapter and fielded questions from a panel moderated by UCP Executive Director Darlene Heater.
Second wave of 'historic shift'
At the UCP board retreat, Leinberger first laid out the historic shift taking place across America as many cities slowly move from the model of drivable suburban development – which has shaped America since the the 1940s – to a form of development called Walkable Urban.
Walkable urban places feature densely developed communities spanning 200-300 acres where people can work, live and play. Walk UPs, as Leinberger terms them, still include cars but rely heavily on transit, bikes and walking to move people.
The University City Area Plan – the UCP-sponsored land-development guide for our North Tryon Street business district – envisions such intense walkable development emerging at the three light-rail stops being built at University City Boulevard, McCullough Drive and J.W. Clay Boulevard.
What's driving the change
Several factors are driving the change, Leinberger said. The first is the coming of age of the Millennials – 80 million Americans born between 1980 and 1995. Among the group's traits, they drive a third fewer miles than their parents, marry later than past generations, are less likely to own homes and, if college educated, are more likely to prefer urban living. REPORT
The preferences of this new workforce are reshaping how businesses choose locations. In suburban Washington, Marriott is planning to relocate its headquarters, now located in a business park near I-270. "One criteria: a walkable transit community."  NEWS ARTICLE
In Boston, "All of their high-tech stuff was out on the I-128 corridor. Now it is moving to Cambridge and Harvard."
Leinberger said that "the commercial real estate firm Cushman & Wakefield just did a study. 500 corporate relocations over the last five years have almost all gone to walkable urban communities to attract Millennials. The second reason was to show they are progressive and forward thinking, not stuck in an office park." STUDY
Reaping the rewards
The success of walkable urban communities is palpable, both in luring highly educated workers and generating income for both businesses and governments.
A 2014 study of America's 30 largest metro areas, ranked by how walkable they are, found that the gross domestic product per capita was 52% higher in the three most walkable cities – Washington, New York and Boston – vs. the three least walkable cities – Tampa, Phoenix and Atlanta. The same study found that in the six top-rated walkable urban cities, 39% of workers over 25 have college degrees, vs. 29% in the 10 least walkable metro areas. ARTICLE
Boston, one of the leading six cities, has just 5.6% of its land mass developed as walkable urban, Leinberger said, yet that small area accounts for 41% of Boston's employment.
For developers and owners – and for the communities that tax business properties and incomes – these new walkable communities yield significantly higher revenues. "Walkable urban land development yields 12 times the tax revenue per acre. Even if that development is strictly residential, it yields 6 times the tax revenue of drivable suburban."
Affordable housing can have a place
One concern about urban walkable communities is that they appear to command significantly higher rents and residential home prices, seeming to mean that they have no place for lower-income residents. For example, in Avalon, a mixed-use development across I-400 from the Alpharetta Mall in suburban Atlanta, some single-family homes go for well above $1 million, and apartments can rent for several thousand dollars a month. ARTICLE
Leinberger said that one solution is for local government to mandate that a certain percentage of housing be affordable, as Portland did when it created a streetcar to serve the old light-industrial area known as the Pearl District. Portland required that housing costs should reflect demographics of the city as a whole. "Today there are lots of yuppie businesses, but 32% of the housing is affordable," Leinberger said.
You also need to consider transportation costs along with housing costs when you calculate affordable housing, he added. The drivable suburban model assumes that you keep driving away from the city center until you find a home you can afford. "If you live out in the boonies and spend 25% of your income on transportation, you are killing yourself on parking and gas." A study of Boston found that residents of its walkable urban communities spend 43% of their income on housing and transportation, while people living in drivable suburban areas spend 48%. ARTICLE
Change is hard and slow – but you are to be congratulated
Before World War II, all we built in America was walkable urban areas, like Dilworth, said Leinberger. For the last 50-60 years, America has built only drivable suburban communities. The shift to walkable urban communities in our suburbs is the biggest development trend of the 21st century, and it will be difficult.
"It's a bear to shift all that you have done and learned from the past to a new way of building things. You are watching and participating in the urbanization of University City."
But University City Partners and Charlotte are taking crucial steps to make that possible, starting with the decision to extend light rail to UNC Charlotte. "It was a gusty decision, and crucial," he said.
Keys to creating successful walkable urban areas
Several elements are necessary to have successful walkable urban communities, Leinberger said. These include:
Small and focused – Focus, focus, focus on one and possibly two walkable urban places. These should be 300 to 400 acres, anchored at the rail transit stops. It is all predicated on how much we as humans want to walk. That has been pretty much the same for the last, oh, 10,000 years, and you're not going to change it.
Variety of transportation modes – Cars will remain one way of getting around, but not the primary way. Mass transit such as the LYNX light-rail line in Charlotte is not absolutely essential but very helpful. And make it easy to walk, bike or even ride a Segway to your destinations. Bike traffic is on the rise. We will see a 10%-25% increase over the next two decades, and bike lanes are the cheapest you can get.
Create overlay zones – Overlay zoning is crucial. Make it easy for developers to do the right thing.
Create walkable, bikable streets – Get the streets right. Have two lanes for traffic. Have generous sidewalks, then bike lanes, then parking lanes to protect the bike lanes from vehicles.
Slow down the traffic – "In walkable urban, you want people to go slow. You want people to complain that 'Nobody goes there because it's too crowded!' When you shift to a pedestrian focus, you want cars to get in there, but you don't want to bow down and genuflect to get cars through there as fast as possible."

Include UNC Charlotte – On campus, you need to focus development as close to the rail station as possible. Make it intensely urban. It should be every bit as intense as Tempe is today for ASU. The rest of the campus has developed over the past 50 years, and it can stay. But close to the station, build close to the street. Have sidewalks and bike lanes. Create the walkable urban experience your students want.
Place management – The role for University City Partners
Every successful walkable urban community has had strong involvement from several layers of government from federal to local. Another key piece is the unique role played by place management groups, including University City Partners, in bridging the public-private divide. There are things best done through public-private partnerships.
"It is leadership by the public sector in laying transit lines and setting zoning, and funding by the private sector to build projects, that drives this growth, Leinberger said. "But there are a raft of services that need to be taken care of, such as parking and public safety," and welcoming new developers. "And that is what University City Partners does. It provides management that government can't do. It is best done through pubic-private partnerships.
Learn more about: