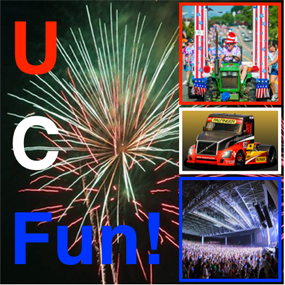 You probably have great plans for your vacation. But why wait until then to enjoy summertime, when there is so much to do right here in University City: Fourth festivities, racing trucks, free food, live music and event quiet walks in search of butterflies! Check out the details, and let the fun begin!
Free food!
Two new restaurants open next week at University Place with offers of free food to first-comers! Tijuana Flats opens June 29, with free burritos to the first 50 customers. Noodles & Company opens July 3 but is offering free pre-opening lunches on July 2 if you register in advance (only about 50 free meals remain as of June 23, so register soon!).
Let the music begin!
Whether you prefer Blues at a bar, soft guitar under the stars or 19,000 screaming Def Leppard or Rascal Flatts fans, you can find it in University City in the next month.
Blues and more – Head to Bar Louie for Thursday Blues and Brews starting at 9 pm each week. The University Place restaurant and night spot also has live music starting at 9 every Friday and Saturday.
Under the stars – Come to the Lakefront Shoppes patio every Thursday-Sunday evening for live music courtesy of the Wine Vault. Choose from hundreds of beers and wines, then sit out on the patio and enjoy great regional musicians like Rich Challen (acoustic–driven rock from one guy trying to sound like three), Raleigh based House of Music (blues, blues rock and regular rock from Led Zepp to Jeff Beck) and Wine Vault veteran solo artist Jared Allan (sample one of his originals). Music plays 7-11 Thu-Sat; 5-9 Sun. Wine vault:
PNC Music Pavilion – The summer's hottest national acts pack 'em in at the PNC Music Pavilion. Among upcoming acts: Def Leppard and Styx, June 30; Dave Matthews Band, July 10; Tim McGraw, July 11; and Kid Rock, July 14.
Festival! Fast trucks! Fireworks! The Fourth!
The town of Harrisburg and Charlotte Motor Speedway provide two dramatically different ways to celebrate the Fourth of July.
Fast and furious! – Charlotte Motor Speedway gets things started on June 30 with a Bang! Bang! Bang! The weekly Bojangles' Summer Shootout Legend Car and Bandolero races will conclude with what the speedway calls "a huge fireworks extravaganza to wrap up a full evening of racing." DETAILS
 Big trucks, too! – New this year, the Champ Truck World Series Event on July 3-4 will provide two full days of super-fast big-rig trucks racing at speeds up to 100 mph on a special course. Cost is just $20 per day, and kids 15 and under get in free if with an adult. DETAILS
Small-town Fourth in Harrisburg – Even if you didn't grow up in a small town, you will love the charm and the enthusiasm of the Harrisburg 4th of July Celebration. Start with the Miss July 4th Pageant on July 2. The Harrisburg Town Park will host two days of live music, other entertainment (including the Mayor's Invitational Cornhole Tournament!), a carnival and lots of food – culminating at 10 each night with fireworks.
July 4 parade – The highlight of the weekend, of course, will be the July 4 parade down Highway 49. From 9 to 11 am, scores of floats, bands, fire trucks and performers will travel more than a mile from Captain Steve's Restaurant on the south side of Harrisburg to Robinson Avenue (Schoolhouse Commons shopping center). GET ALL THE DETAILS
When nature beckons
University City's parks and greenways provide great escapes anytime. Special park programs over the next few weeks can help you and your family learn a little about University City's natural environment or even kayak in a nearby lake or explore North Carolina's tallest mountain! Most events are based at Reedy Creek Nature Center and Preserve, 2900 Rocky River Road. Many events are free, although registration is required. Upcoming events include (and there are many more!):
The Nature of Greenways: Mallard Creek Greenway – June 25
Butterfly and Dragonfly Hike in Reedy Creek Nature Preserve – June 27
Evening kayaking on Mt. Island Lake – Wednesday evenings
Biodiversity Hike at Mt. Mitchell State Park – All day, July 11
See all the programs and register
View all of the hundreds of programs available at Mecklenburg County Parks and register to participate at the EVENTS REGISTRATION WEBSITE. First-time users must complete a short registration form to access the extensive list of programs. Be aware that many events have age limits; some have requirements such as the ability to walk a certain distance; some have fees.