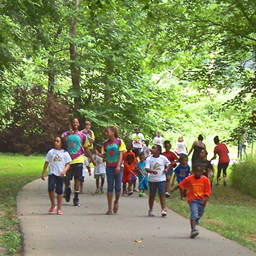 Summer in Charlotte can make us all long for a quick escape to someplace greener, cooler, more natural. Luckily for those of us in University City, great green escapes ranging from forest glens to rain forests lie right around the corner! Some even have guides to lead the way! Ready to escape?
UNC Charlotte Botanical Gardens
Location: Mary Alexander Road at Craver Road on the UNC Charlotte Campus.
What you'll find here: The botanical gardens at UNC Charlotte are just a year younger than the university itself. The outdoor gardens fill 10 acres in the glen running beside Mary Alexander Road.
The McMillan Greenhouse, a great escape even on rainy days and especially in the winter, offers exotic plants from the Carolinas to distant rain forests. In May, the Van Landingham Glen blooms with rhododendron and native azaleas. You'll enjoy the azaleas, viburnums and perennials in bloom in the adjacent Susie Harwood Garden, as well. A new terrace showcase of NC native plants honors longtime gardens director Larry Mellichamp.
Check out the gardens' website for a season-by season list of what's in bloom. The gardens host many classes. You also can schedule a group tour.
Clark's Creek, Mallard Creek and Toby Creek Greenways
Location: Toby Creek Greenway runs through UNC Charlotte. Mallard Creek Greenway begins at Kirk Farm Fields (Mallard Creek Church Road near North Tryon Street) and ends near West Sugar Creek Road. Clark's Creek Greenway runs about three miles north from its start just north of Mallard Creek Church Road.
Greenways map: Download a current map of the Toby, Mallard Creek and Clark's Creek greenways and detours, courtesy of Bike Line of Charlotte
Facilities: Parking lots at Town Center Plaza on NC 49 and Kirk Farms Field on Mallard Creek Church Road. A portable toilet and drinking fountains are available at Kirk Farms Field.
What you'll find here. When you add up the greenways and the side trails that abound in University Research Park, you end up with a trail network of over 10 miles – mostly paved except for 1.5 miles in the middle of University Research Park. People love to bike, hike, jog, walk dogs, pick blackberries by the bushel in early summer and even look for deer and other wildlife at dawn and dusk. Three construction projects currently make the greenway a bit challenging – though not impossible – to traverse from end to end: the realignment of Phillips Road in UNC Charlotte; the Blue Line Extension light-rail line, also at UNC Charlotte; and the replacement of the North Tryon Street bridges over Mallard Creek.
About the detours: The good news is that the Phillips Road project will finish by early fall and result in the greenway running under this busy campus road rather than across it. The light-rail project is easy to get across as well, thanks to flagmen who make sure that we don't run into construction vehicles. The bad news, sort of, is that the  greenway under North Tryon Street will remain closed until fall 2016 or longer as the state replaces the bridge. However, the state has installed a well-marked detour path so you can get around the construction.
RibbonWalk Nature Preserve
Location: Nevin Road at Hoyt-Hinson Road.
Facilities: Small parking lot, portable toilet, picnic tables and large field available for special events
What you'll find: The 188-acre forest nearly became a golf course in the 1970s but now provides a great escape into a grove of some of the biggest and oldest American beech trees in the region, along with quiet tree-shaded pond and three miles of trails. It's hard to imagine that Irwin Creek, the stream that winds through Third Ward in downtown Charlotte, begins here at idyllic RibbonWalk. As you stroll the forest and meadow trails, look for the 53 species of birds and 24 species of butterflies that have been spotted here.
Clarks Creek Nature Preserve
Location: Hucks Road, a half-mile east of NC 115.
Facilities: Small parking lot. No other amenities (as in bathrooms!)
What you'll find: Nearly 100 acres of open fields and forest on the upper reaches of Clark's Creek, including a small pond and wetlands, await your great escape. You will likely spot signs of white-tailed deer, raccoons and the usually nocturnal beaver, especially near water.
Among the many birds that frequent here in summer are Eastern bluebirds, common yellowthroats and prairie warblers. You may also spot red-tailed hawks and red-shoulder hawks. Though just 28 acres, the woods along Clark's Creek has a shagbark hickory nearly 2 feet across that has stood since the 1870s and a swamp chestnut oak that's a staggering 4-feet across!
Reedy Creek Nature Center and Preserve
Location: 2900 Rocky River Road, a mile east of East W.T. Harris Blvd.
Facilities: Nature center, 10 miles of hiking trails, gardens and three ponds stocked with fish.
What you will find here: You can get lost on this 773-acre preserve's 10 miles of trails. Or you can take ranger-led hikes, fish in three ponds or reflect about our region's history while sitting on the stone ruins of the 18th century Robinson Rock House.
If you come on a hot summer day, remember to watch the outdoor thermostat on your dashboard inch downward 5 to 10 degrees as you slowly drive the mile from the park entrance to the Reedy Creek Nature Center.
The center is open daily and has several wildlife displays, a small store and classrooms for the center's frequent programs. Kids will love playing in the forest playground nearby. Get a trail map and start exploring. Or sign up for one of the many programs.
If you prefer picnics, soccer, dog parks and disc golf, you will find it here, too, in the adjacent 125-acre Reedy Creek Park.
The lake at University Place
Location: Inside the University Place mixed-use center at North Tryon Street and W.T. Harris Boulevard.
Facilities: 12-acre lake, paddle boats, numerous restaurants with patio dining, paved lakeside sidewalk and lots of parking nearby.
What you'll find: OK, this isn't exactly raw nature, but it is still a blast, especially beginning at dusk. The stroll around the lake provides ample time to talk and "spoon," (look it up, young people!). Rent a paddleboat or watch the geese. Let the kids have fun at the small playground near the Hilton. Find a table outside near the Wine Vault and enjoy hundreds of beers and wines. And we highly recommend people watching at the many restaurants with outdoor dining.