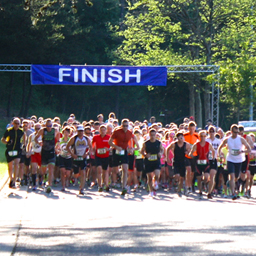 Saturday's University City Duathlon will draw hundreds of athletes to run and bike through University Research Park. We love how the event showcases the URP and grateful that business owners Chris Elkins and Shane Hockensmith dreamed it up and keep it growing. It's been a great run / ride, Chris agrees, made possible by many hands.
Like many great ideas, this one started with a need and found its voice over a cup of coffee. The need will sound familiar to anyone who runs a retail business – how to attract new customers.
Chris opened the Run For Your Life running store 11 years ago at The Arbors shopping center and set out to develop a running community in University City. He launched a running club and started a 5K event, the King Tiger 5K, now in its 11th year.
He also began approaching like-minded businesses to see if they could cross promote each other – perhaps display each other's business cards and events brochures.
Enter Bike Line
That led Chris to Shane, who started Bike Line of Charlotte 17 years ago at Town Center Plaza. Shane agreed to swap materials, Chris says. "Then I asked him what other kinds of cross promotion could we do?" They kicked around many ideas, like T-shirts bearing both companies' logos or a shared event that might introduce their customers to each other's products.
"We were out on the porch at Starbucks one Tuesday morning when we came up with the idea: Why don't we put an event together? And the idea of a two-sport run-bike-run Duathlon made a lot of sense," Chris says. "It was something we could both promote, and it would be unique enough to draw from much more than just our nearby ZIP codes."
One more key business
Staging a duathlon, however, presented a special challenge. While Charlotte's Run For Your Life stores put on many events, Chris says, most of them are strictly running events. So Shane and Chris reached out to another University City business owner, Neal Boyd of Charlotte Sports Cycling.
"Neal is well known on the bike side of things and has experience putting on not only multi-sport events but specifically running and biking events," Chris says. Plus Neal also has a marketing arm.
Where to run the Duathlon?
With the core team in place, the next big question was where to stage it. The location needed to have plenty of room and safe roads on a Saturday morning, plus parking for hundreds of cars.
The search led them to the David Taylor Corporate Center, which has served as the duathlon's staging area for all five years.
The research park "clearly is the best place for the Duathlon," Chris says. "It's got parking options and low car volume on Saturday morning. It's got a scenic arbor tunnel created by the trees, and then there is the uniqueness you get of being able to run on the greenway."
200 participants in Year One
Fast forward to race morning in 2011. Two hundred-plus participants, nearly 100 volunteers, three major sponsors including University City Partners, several University City vendors providing food and services, and11 police officers and cruisers making sure that the event was as safe as possible.
Chris laughs when asked if he, Shane and Neal had set goals for the first event. "The story might go better if we did," he says. But, really, they did have some informal ones – including doing enough things right that participants and sponsors might come back in 2012.
Chris says he knew things were going right that first race morning as he looked over the staging area and listened to people talking.
"I remember a few participants that first year who saw the start line, the finish line, the transition area with hundreds of bikes laid out, the sound system going, and I think people who had not been at a Duathlon before were in awe and impressed with the reality of what it takes to put on an event like this, and the execution of having little ol' Run For Your Life and Bike Line putting on something that looks darned professional and worth bragging about," Chris says. "There was a sense of pride in that."
Year 5 – Many hands keep it going
Saturday marks the fifth running and rolling of the University City Duathlon. Weather looks great. Shane and Chris hope that participation will be up (as they do every year). They look forward to being able to donate several thousand dollars again this year to Duathlon's charity of choice, Bethany Christian Services. The Duathlon has generated $20,000 so far for local charities, Shane says with pride.
The University City business community continues to embrace the Duathlon. BECO South joins University City Partners and Peak 10 as major event sponsors for 2015. Many business provide services and giveaways, including a table overflowing with apples and bananas from Harris Teeter, bread from the Great Harvest Bread Co., and coffee from Cafeccino.
After five years, "the business community is recognizing this as a unique event that's in our neighborhood and a great out-of-the-box marketing opportunity for branding their business in University City," Chris says.
An event for everyone
Chis is especially pleased that the University City Duathlon has become known as an event for everyone, at every skill level, where you don't have to be a future Olympian to take part.
"You'll see mountain bikes and road bikes. You'll see people walking during the running stages, and it gives you a chance to enjoy the business park in a special way, since the morning is set aside for the athletes," he says. "This is an opportunity worth taking, and you will find people there who are just like you, whoever you are."
Still time to enter
Get all the event details and sign up to take part at universitycityduathlon.com
Meet the Duathlon sponsors
Lead sponsors
Other sponsors
Great Harvest Bread Co. – North Charlotte