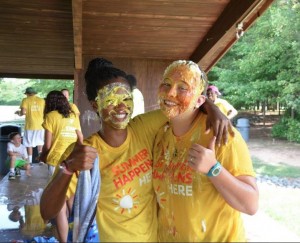 Some of us remember way back in the 1990s when the University City YMCA launched its first summer camp at the Mallard Creek Church barbecue site. Times sure have changed, and University City families are the big winners. We are blessed with a wide diversity in summer camp programs from step dancing and travel at the Y to math, robotics and high-school level athletics at UNC Charlotte. Here are details.
YMCA Summer Day Camp
Forget your memories of YMCA Camp with canoes or maybe a swimming pool. The summer camp program at University City YMCA covers dozens of interests from lacrosse and baseball to journalism, babysitting and even Road Trippin' across the Carolinas!
"Our goal is to provide a warm, safe environment where children participate in meaningful activities and experiences, develop lifelong friendships and gain skills they will use for a lifetime," the YMCA camp website says. "Our knowledgeable, energetic and highly trained camp staff provides leadership and support, helping your child grow and explore."
Yes, you still can enroll the kids in traditional Day Camp, which incorporates all of the activities you think of when you think of Day Camp. Campers are divided into age-appropriate groups and participate in archery, arts and crafts, group games, Gaga ball, camp songs and devotions. They get to spend an hour each day, swimming in the Outdoor Waterpark, too.
But if your child loves athletic competition, consider one of the Sports Camps, which focus on eight different sports and a general All-Star Camp. Other camp themes include various arts, drama, musical theater, science and leadership. Weekly costs vary according to the program.
The Y Summer Day Camp has age-appropriate programs for children ages 3-15. Sessions start June 15-19 and end Aug. 17-21. The primary camp activities take place 9 am-4 pm. Campers can come as early as 7 am and stay until 6 pm, with activities available to them during the extra time. Most activities take place at the University City YMCA campus at 8100 Old Mallard Creek Road.
Learn more – Visit the University City YMCA Summer Day Camp website for much more information and to register, or call 704-716-6702.
UNC Charlotte Camps on Campus
UNC Charlotte's Camps on Campus offer children and young people the opportunity to join scientists, researchers, educators, writers, and actors in the creative atmosphere of a university campus.
Camps on Campus are divided into three age groups – Cool School (students entering grades 1-4), 49er Miners (entering grades 5-8) and Niner Academy (entering grades 9-12).
Your child can attend one or more sessions and take part in programs such as Robotics and Electronics (available for students entering 4-5, 6-8 and 9-12), CSI Campus (for 5th-8th grades) and Leadership Institute (grades 9-12).
Several half-day LEGO Engineering Camps are available (morning and afternoon sessions) for students entering grads 1-2 and 3-6).
Weekly sessions start June 15-19 and end Aug. 3-7. Children can arrive as early as 7:30 am and stay until 5:30 pm. Cost is $230 per week for full sessions, $150 per week for half-day sessions.
Learn more and register: Visit the Camps on Campus website for much more information on the camps. Register at the Continuing Education Portal.
CAMMP for math lovers
Children entering grades 1-6 can discover the fun of mathematics at the Comprehensively Applied Manipulative Mathematics Program, June 22-26 at UNC Charlotte.
CAMMP's philosophy is to enhance a child's genuine understanding of mathematics and its connections to thinking, reasoning and real-world problem solving. Campers solve problems using manipulatives, games and puzzles, computer and calculators and robotics assembly and programming.
Now in its 24th year, CAMMP  is an International Award-winning experience, recognized for its creativity and innovation. Dr. Michael Green and Dr. Jack Piel, faculty members of UNC Charlotte's Elementary Education department, direct CAMMP. The program is also offered at other Charlotte locations throughout the summer.
Learn more and register: Cost is $250; registration deadline is June 12. CAMMP website
Athletic camps at UNC Charlotte
The UNC Charlotte Athletic Department offers summer camps in numerous men's and women's sports including golf, basketball, baseball, football, softball, soccer, volleyball and tennis. Programs can last a day or several days and focus on one or more skills.
Learn more and register: Visit Charlotte49ers.com for specific information via the many camp program links.