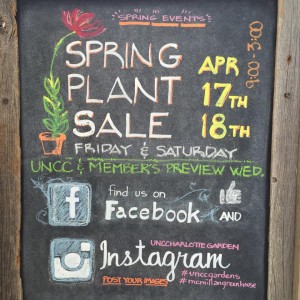 University City celebrates its love of all things green (including UNC Charlotte) with three truly green events in the next 9 days: Plant sales on Friday and Saturday at UNC Charlotte's Botanical Garden and the CPCC Cato Campus; and a new farmers market opening April 23 at CMC-University Hospital! Details:
Spring Plant Sale at UNC Charlotte Botanical Garden
Come to the UNC Charlotte Botanical Garden from 9 am to 3 pm Friday and Saturday for a plant extravaganza! Shop the garden's largest sale of the year, featuring a big selection of native plants and exotic botanicals wildflowers, trees and shrubs, perennials, tropicals, succulents, Venus fly-traps and other carnivorous plants. This is a great opportunity to select from a wide variety of natives and to ask questions of the garden's knowledgeable staff and volunteers. Event details:
Where: The sale will take place around the greenhouse at Craver Road and Mary Alexander Road (GPS address: 9090 Craver Rd. Charlotte, NC 28262).
Parking: Parking available across the street from the greenhouse and in Lot 16 for sale and gardens visitors during the sale. Parking attendants be on hand to direct you and will be opening the gated lot for plant pick-ups.
Payment: Cash, checks, and credit cards accepted with all proceeds supporting the operations of the Botanical Gardens
Learn more: Visit the garden website at https://gardens.uncc.edu or call 704-687-0721
CPCC Cato Campus to Host Annual Spring Plant Sale
Our other big draw for garden enthusiasts, the Horticulture Technology program at the CPCC Cato Campus, will have its own spring sale this weekend. The sale will run 9 am-6 pm Friday and 9 am-noon Saturday. Plant available at the sale include:
Vegetables – lettuce, peppers and tomatoes
Herbs – dill, basil and parsley
Annuals – zinnias, marigolds and others
Perennials – snapdragons, dwarf yellow cannas and more
Payment: Personal checks and cash will only be accepted. All proceeds will benefit the Horticulture Technology program at Central Piedmont Community College's Cato Campus.
Where: The CPCC Cato Campus Horticulture Building is at 8120 Grier Road, just off East W.T. Harris Boulevard about 4 miles southeast of North Tryon Street.
Farmers Market debuts April 23 at CMC-University
Carolinas HealthCare System brings fresh fruits and vegetables to the community beginning April 23 through a new farmers market at Carolinas Medical Center-University. The farmers market will be held 4-7 pm Thursdays through the end of October at the Teaching Garden, located at the back edge of the hospital parking area, overlooking UNC Charlotte.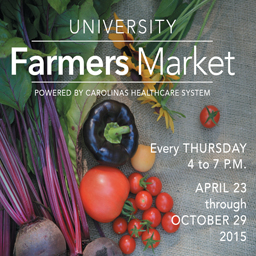 Visitors to the farmers market will enjoy a large selection of fresh produce from local farms as well as fresh local honey. Throughout the growing season, we will feature live entertainment from local artists as well as cooking demonstrations from area chefs.
The cooking demonstrations will take place in the outdoor kitchen in the garden. The demonstrations will showcase healthy cooking techniques featuring produce from the market.
The Teaching Garden at Carolinas Medical Center-University is an organic fruit, vegetable and herb garden that highlights the nutritional and environmental benefits of fresh, locally grown produce in an interactive and educational way. The garden serves as an outdoor classroom for all, teaching healthy habits to hospital visitors and staff, local school children and members of the wider community.