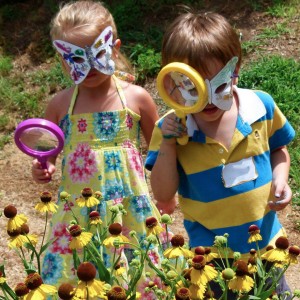 The Spring Plant Sale at UNC Charlotte's Botanical Gardens on April 17-18 will give gardeners the chance to buy native shrubs and trees, unique tropicals and even carnivorous plants! Save time to stroll Charlotte's premiere public gardens at the height of their beauty. "Mid- to late April is perfect!" says interim director Paula Gross. And the gardens are free!
A visit to the gardens is, in some ways, a stroll back in time. The university was just a year old in 1966 when founder Bonnie Cone and biology professor Dr. Herbert Hechenbleikner launched the gardens as a living classroom for biology students and as a horticultural and botanical resource for the campus and greater community.
A place for all gardeners
The Botanical Gardens have evolved into the special resource that exists today – comprising 10 acres of outdoor gardens and a 4,500 square-foot glasshouse with attached workspace, a teaching classroom and an extensive botanical and horticultural library.
Hundreds of adults and children take gardening classes each year, including the monthly Budding Botanists programs for children ages 4-8 and about 15 short courses for adults, focused on native plants.
Most of the garden's 25,000 visitors each year, however, come simply to bask in the beauty. Visitors can stroll the Van Landingham and Susie Harwood Gardens from dawn to dusk daily, or visit the McMillan Greenhouse 10 am-3 pm Mondays-Saturdays and 1-4 Sundays. Guided tours are also available.
Buy your plants April 17-18, then explore!
The plant sale will take place around the greenhouse complex at Craver and Mary Alexander roads. The greenhouses are worth a look inside, especially if you like orchids and the tropical flora. Also featured are carnivorous plants, many of them native to eastern North Carolina. But the real jewels in mid-April lie just across Mary Alexander Road in the 7-acre Van Landingham Glen and the 3-acre Susie Harwood Garden.
Garden overviews
The Van Landingham Glen – This woodland garden showcases native plants of the Carolinas and includes one of the most diverse rhododendron gardens in the Southeast. Stepping into the Glen, one feels a shift. The Glen provides the natural calm and contemplative atmosphere of a mountain woods – a retreat right on campus.
A visit to the Glen in late March through April is an early-spring tonic. Discovering Bloodroot, Trout Lily, Trillium, Creeping Phlox, Foamflower, Jack-in-Pulpit, and other wildflowers along the trails serves to lift spirits and warm senses.
The Susie Harwood Garden – Visitors can explore an impressive diversity of hardy ornamental landscape plants, meandering paths, a pond with waterfalls, an Asian Garden, and naturalistic rockwork throughout. The Harwood Garden contains lovely views, colorful plantings, and inspiration for home landscapes through the seasons. Spring in the Harwood Garden is fresh, colorful, and inspiring. Wildflowers, azaleas, bulbs and flowering shrubs and trees explode into glory.
The Mellichamp Native Plants Terrace – Located in the Susie Harwood Garden, the brand-new Native Plants Terrace brings together Southeastern native flora, sustainable practices and smart home landscape design in a 1/5-acre showplace. The Terrace honors longtime gardens director Dr. Larry Mellichamp, an expert on Carolinas native plants.
You will see a work in progress this spring, Gross says, as gardens staff and volunteers work to complete the initial terrace plantings in time for a dedication program on May 31. Then it will be up to Mother Nature to complete the work.
"Any garden, when it first opens, is not like unveiling a finished painting; the garden has to grow in," Gross observes. "But the hardscape and plantings we did last year will be looking good this summer."
How you can help the gardens bloom
The Botanical Gardens depend heavily on the community for financial and volunteer help, Gross says.
Donate: Though the gardens are free, visitors are encouraged to make a $2 donation to help with costs. People also can give money directly to the gardens or arrange to donate items such as memorial benches.
Join: Become a Friend of the Gardens and receive special benefits while helping to sustain this community resource. There are several levels starting with individual memberships at $25 per year. DETAILS
Volunteer: The garden has two main needs for volunteers – working in the gardens with the staff ("These are literally hands-in-the-dirt volunteers," Gross says) and serving as Sunday hosts in the greenhouse. "We would not have staff time to pay to be open on Sunday, but we know it is a great day for visitation, so we have volunteers who do that," Gross says. You don't have to be plant experts, she adds. "It is pretty much welcoming people and orienting them to the location of our various collections, as well as giving them event slips with more information about classes and other offerings." For details on donating and volunteering, contact Gross at pmgross@uncc.edu
Spring Plant Sale details
The Spring Plant Sale will take place 9 am-3 pm April 17-18 at the greenhouse, at Craver and Mary Alexander roads. The sale will offer a broad selection of native plants, tropical and carnivorous plants. See details below for parking and directions.
Great garden links
Gardens Overview – Start your virtual garden tour at the extensive main website. Find lots of photos and keep current on gardens activities via Facebook.
Directions and parking – The greenhouse is at 9090 Craver Road; the gardens are on the far side of nearby Mary Alexander Road. Weekend visitors can park for free in most areas of campus other than spaces specifically marked as reserved. On weekdays, park in a nearby parking deck or in one of the visitor spaces just across Craver Road from the greenhouse. MORE
Garden FAQS – Learn about the gardens here. Seasonal guides should be available at garden entrances. MORE
Photos – You can find hundreds of photos on Instagram. VIEW
Video glimpse of the new Mellichamp Native Terrace Garden. VIEW
Classes and tours
Budding Botanists children's program – Children ages 4-8 can learn about plants in these monthly Sunday afternoon programs at the McMillian Greenhouse. Classes are also offered at the University City Regional Library. Email Paula Gross at pmgross@uncc.edu for additional information. MORE
Native Plant Studies for adult gardeners – You can earn a Native Plant Studies Certificate or take individual courses throughout the year from UNC Charlotte professors and other experts. Upcoming topics include "Organic Pest and Weed Control" on April 10 and 24; and "Introduction to Piedmont Soils," May 8-9. MORE
Guided tours – Guided tours are available on weekdays for groups of 7-26 ($3 per person; must be scheduled at least a week in advance) MORE