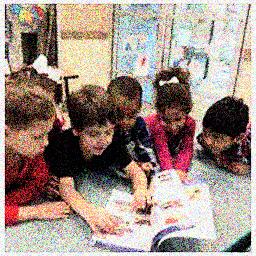 University City has great employers, a dynamic university and many places to dine, party or just walk in the woods. But what about care for the young ones when parents must work or attend class? Several highly rated child-care centers are nearby, too, with a broad range of programs. Explore now!
Bright Horizons at IBM Drive
http://child-care-preschool.brighthorizons.com/nc/charlotte/ibmdrive
6901 IBM Drive – 704-510-4100
Open 7 am-6: 30 pm weekdays. Serves infants, toddlers, preschool and kindergarten prep. The center also accepts children from kindergarten through age 12 for spring and winter break, inclement weather days and school closure days.
Statement: Our state-of-the-art center is custom designed to fully meet the care and educational needs of young children. Our highly skilled teachers provide nurturing and love as they gently encourage exploration and development of skills to get our children ready for school. Our center provides an exciting environment where children can begin to discover the world around them through language, math, science, art, movement and music. Learn more: Open House, 4 pm April 14. Hear about the program, tour the facility, meet the staff. Reservations not required.
Bright Horizons at The Learning Garden
http://child-care-preschool.brighthorizons.com/NC/Charlotte/learninggarden/
9625 David Taylor Drive – 704-548-0792
Open 7 am-6 pm weekdays. Serves infants, toddlers, preschool, kindergarten prep
Statement: We recognize how important quality care and education is in each child's development, and to each family. In our home-like atmosphere, our caring faculty provides a safe, nurturing and engaging environment where your child can learn and develop to their full potential. The Learning Garden has several enrichment areas available for children of all ages. We would love to show you our Art Studio, Splash Pad, Movement Matters Zone, Baby & Me room, Music Garden and Edible Gardens!
Children of America Charlotte
http://www.childrenofamerica.com
2102 Ben Craig Drive – 704-624-7171
Open 6:30 am-6:30 pm weekdays. Serves children ages 6 weeks to 12 years with programs for infant, toddler, preschool, pre-K, school age and summer programs
Statement: Our day care facility is a fun, safe place where your child can learn, play and interact with other children. Our emphasis on reading, physical fitness and creative play keeps them engaged and helps channel energy in a positive way. The learning-by-doing approach our staff and teachers take encourages cognitive, social and physical development and is precisely what children need during their formative years.
Gateway Academy Child Development Center
http://gatewayacademy.com
9625 Mallard Glen Drive, Charlotte, NC – 704-549-4344
Serves children ages 6 weeks to 12 years with programs for multiple ages up to pre-kindergarten, plus before- and after-school care for children from K to age 12.
Hours: 6:30 am-6:30 pm weekdays.
Statement: Children learn best by exploring, playing and being "hands-on" learners. From creative art to a focus on phonics and math that makes learning to read and working with numbers fun, our curriculum and activities are built for your enthusiastic learner. We encourage a positive sense of self by using praise, encouraging independence and building on their skills. Manners are also encouraged in the classroom throughout the day.
Kids R Kids Learning Academy
http://www.kidsrkidscharlotte.com/
2115 Ben Craig Drive – 704-503-4001
Open 6:30 am-6:30 pm weekdays. Serves children from 6 weeks to age 12. Programs for infants, toddlers, preschool, pre-K. Special programs include foreign language, music, computers and health and fitness. Also programs for 5- to 12 years old before and after school, on school holidays and Summer Camp. Transportation to and from school is provided.
Statement: Our Kids 'R' Kids curriculum is founded upon the educational theories of Jean Piaget, Lev Vygotsky, and Sara Smilansky. These three educational theorists guide our decisions for age appropriate learning experiences for children. Our schools are designed so that children learn through peer and teacher interaction in a creative and safe environment as put forth by Vygotsky's theories of the development of the young mind. Our curriculum scaffolds teaching strategies for every classroom age grouping using Piaget's framework of proposed stages in a child's developing ability to learn. Finally, we believe in Smilansky's teachings of learning through play. Our curriculum includes a plethora of playtime both outside and in the classroom, giving the children the freedom to create and explore their world.
Pal-A-Roo's Child Development Center
Http:// Palaroos.com
9215 Mallard Creek Road, Charlotte, NC  – 704-548-8076
Serves children ages 6 week to 5 (transitional kindergarten), plus after-school and holiday programs for school-age children ages 5-12. Summer Camp, weekly GymTastic Express fitness and Musicare preschool programs are available.
Statement: Pal-A-Roo's provides an environment that encourages children to achieve their full potential in a supportive, fun-filled atmosphere promoting physical, emotional, ethical, creative, intellectual and social growth. Our curriculum for all age groups is based on the Addison-Wesley Active Learning Series program. This program includes activities to help children develop their minds and bodies as they learn from the world around them.
Tutor Time Child Care / Learning Centers
http://www.tutortime.com/your-local-school/charlotte-nc-6045/
1720 J.N. Pease Place – 877-717-0945
Serves children 6 weeks to Pre-Kindergarten / Kindergarten Prep, plus before- and after-school programs and summer camp for school-age children ages 5-12.
Hours: 6:30 am-6 pm weekdays
Statement: At Tutor Time, we focus on your child's unique interests and abilities through hands-on active learning and self-expression. Our LifeSmart curriculum is inspired by Howard Gardner's multiple intelligences theory. Intelligences are the ways each of us perceives and understands the world as we encounter problems and seek solutions. By providing a variety of experiences to foster each intelligence, children become more adept in all intelligences.
University Child Development Center
http://www.universitychilddevelopment.com/
8303 University Executive Park Drive, Suite450 – 704-549-4029
Open weekdays. Serves infants from 6 weeks to 1 year, toddlers, preschool (ages 3-4), transitional kindergarteners to 5 years. Also before- and after-school care for children ages 5-12.
Statement: We are a five star rated, family owned and operated business, providing high quality services since 1988. We operate three centers in the Charlotte, NC area. We pride ourselves on the capabilities and extensive experience of our staff, our customized curriculum, and the achievements of the little scholars that matriculate through our programs. Additional programs include after-school care and tutoring for children ages K-8; and a summer school with daily programs including swimming at the YMCA, seeing plays and going on field trips.