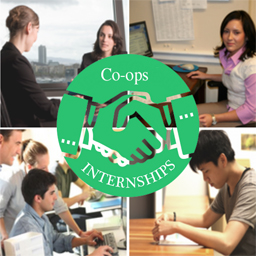 UNC Charlotte's Spring Career Expo on April 10 will draw 200 companies from Apple to ZOOM Energy, most seeking talented students for summer and full-time positions. Yet many area businesses from TIAA-CREF to campus-based C5 Insight already have promising 49'ers in hand, thanks to the University's extensive co-op, job-shadowing and internship programs.
"UNC Charlotte students are very eager to learn and easy to place based on their skills and academic preparation," said Pete Medrano, who helps find students for internships at TIAA-CREF.
C5 Insight, based in the university's PORTAL building near Richardson Stadium, has used both undergraduate and graduate students in its Relationship Management and Collaboration consulting business.
"We have found that students who are enrolled in a graduate program have just the right level of knowledge to assimilate well," said project manager Tricia Desso-Cox – so well, in fact, that two former students are now full-time employees.
Get Hired!
The University Career Center offers several experiential learning programs to help students gain real-world work experience in their field of study. These include:
Co-op: Students commit to work for an employer for multiple semesters in a paid work experience related to their major. These may involve alternating semesters of work and study, or part-time work and study at the same time.
49ership: A career-related program where students work part time fall and spring semesters and/or full or part time during the summer to gain professional experience. Students do not earn academic credit but may receive pay from the business.
Internship: This is a career-related program where students gain academic credit while working with a company. These are coordinated through the relevant academic department.
Job Shadowing: Students explore different career fields by spending time with professionals who can share their experiences first-hand. This process can help students build a network of professional mentors to help them clarify their career interests.
Hundreds of businesses involved
Last year alone, area businesses offered about 1,500 student co-op work-study positions and internships, says Jim Novak, associate director of the university's Employer Connection Programs. Hundreds of employers also sought student employees through a campus on-line employment listing called Job Location and Development. Several companies have developed ongoing experiential learning programs to recruit future employees, most notably Bank of America, Novak said.
The bank starts its recruitment for applied technology interns (omit the word Co-op) during the fall semester, working with faculty in the Belk College of Business and the College of Computing and Informatics. Chosen students enter the program in January of their junior year and go into a special academic program under the guidance of UNC Charlotte professors for the spring semester.
The students do a full-time 49ership during the summer before their senior year, then complete 20-hour-per-week 49erships during their fall and spring semesters. Many of the seniors in this program get job offers from the bank, Novak added.
"If we had a relationship like that with everybody, that would be wonderful," he said.
University City businesses turn to UNC Charlotte
Many businesses seeking students for internships and co-ops have operations in University Research Park, including TIAA-CREF, Fox Sports, EPRI and the fast-growing Internet marketing company, Red Ventures. "Red Ventures is taking advantage of every possible opening we offer, from full time to part time job development, co-ops and internships," Novak said. "TIAA-CREF is doing so, as well."
Medrano said that TIAA-CREF's employment needs mesh well with UNC Charlotte's actuarial, finance, accounting and technical programs at the university.
"Historically, TIAA-CREF has used the internship program to recruit students for our summer internship program as well as for full-time positions," he said.
Having the university nearby has been helpful, too. "We have been able to create visits to our campus by students, as well as visits for those (UNC Charlotte) staff members who work with them," he said.
From interns to employees
C5 Insight also has benefited from easy access to students, as one of several emerging businesses with offices in the PORTAL Building, part of the university's Charlotte Research Institute. Directly across the street is a key provider of C5 Insight interns, the College of Computing and Informatics.
"The ultimate combination for our company is a student with an undergrad in technology who is in pursuit of a graduate degree from the business school, or vice versa," said Desso-Cox.
The company has found some excellent new employees through internships and co-ops.
"Our first real success story started two summers ago," she said. "We invited a student, Zhen Wang, who was pursuing a Masters in Computer Science, to join us for an internship. He was so successful on the project that was assigned to him, we offered him to remain with us via the co-op program through the fall semester, and he agreed. He graduated in December 2013, and we offered him a full-time position with the company. He is still with us today!"
The company recently hired Harsha Pawar, a Master of Information Technology student, via the same process.
How to get started
The University Career Center website has extensive information on the various programs and upcoming events such as the April 10 Spring Career Expo.
The homepage also has a link to online service called, simply, HireANiner. Businesses offering jobs and internships can log in here and post them. Students and alumni can do the same to search for those listings. HireANiner also lets employers search student and alumni resumes, request on-campus interviews and submit other internship-related materials.
"If you have an immediate opportunity, go to HireANiner and log in," Novak said. "Click on the Employers button and go ahead and directly post, and our staff will engage you."
You also can contact Novak at jnovak4@uncc.edu or 704-687-0795.
Tips for finding the right student
Tricia Desso-Cox with C5 Insight offers these suggestions for finding the best students for your co-op or internship:
Start the recruiting process early – Novak says that many companies start the previous fall for summer internships.
Take advantages of opportunities provided by UNC Charlotte to meet students and share your company's story. (Many companies come to campus to meet with groups of students or host visits to their Charlotte-area facility.)
Be diligent about the screening and interview process to ensure that the student is a good fit for your organization and your internship is the right fit for the student's interests and long-term career goals.
To maximize the short amount of time the student is with you, take time to determine what the structure will be in the office for your team and the student. Who will the student report to? Who will be the mentor, if different than the student's manager? What work will the student be assigned? What information and meetings will the student be privy to?