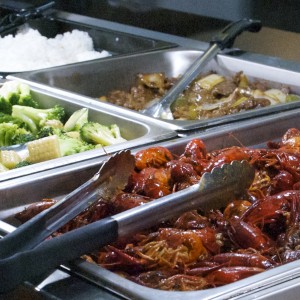 Expect to be both surprised and pleased on your first visit to the new Tokyo Grill and Buffet. The 350-item buffet ranges from traditional Chinese dishes to beef tenderloin. Pick your meats and vegetables at the Hibachi grill and have it prepared while you wait. And if you love sushi, well …
"We've got the best sushi bar in the whole town, and the best sushi chef in town, too," says co-owner and manager David Zheng. "For $9.99, not another restaurant can touch it!"
Tokyo Grill and Buffet opened in February near Home Depot in the Commons at Chancellor Park shopping Center on University City Boulevard. This is the fifth grill and buffet restaurant that Zheng, his uncle and other partners have launched in five years across the South and the second, after Greensboro, in North Carolina.
They appear to have the restaurant-launch process down. Find a location like this one, where tens of thousands of people live nearby and pass by on major roads. Open each restaurant with key people like head chef Chin Jua and General Manager Kun Zheng, who have trained at their other restaurants. Hire local staff who exude a positive attitude. Offer lots of tasty foods from Asia and America. Generate high customer volume so you can keep the food fresh and prices low. And make the restaurant spacious yet inviting.
New and spacious
We visited with Zheng on a recent morning shortly after the doors opened at 11. The Chinese statue at the door and the expansive water display just inside, with miniature mountains, spinning globes and goldfish, set the tone.
The all-new décor is a comfortable blend of Asian traditional, contemporary and even, in a few spots, humor – such as the life-sized Chinese warrior that guards the buffet bar not with weapons in hand, but spatulas.
The focus is on the brightly lit buffet area with perhaps a dozen steam and cold tables heaped with food. The far wall holds the sushi and hibachi bars – nearly as popular as the buffet.
Something for everyone
Well before noon, perhaps 75 people were loading plates at the buffet or waiting for the hibachi chef to grill their meals.
Tokyo Grill's goal is to offer literally something for everyone. "We've even got Italian pasta," Zheng says. At one point he describes Tokyo Grill as an American restaurant. And with good reason. Side by side with Sea Food Delight, mounds of steaming shrimp and bins filled with Chinese vegetables you'll find Pepperoni Pizza, Texas Toast and sweet potatoes topped with marshmallows.
"Our goal is to be a place where everyone can come to the restaurant and have something to choose from. We've got a little bit that anyone will like," Zheng says.
Plenty of space
With food offerings like that, Tokyo Grill will likely draw big crowds. The restaurant can seat 400, Zheng says, and it clearly is a big hall. Yet it feels much more comfortable, thanks to low walls creating four separate dining areas with many booths as well as tables.
On the far side of the buffet area is the totally enclosed party room. It serves as just another dining area most of the time but can be reserved for large groups at no additional cost beyond the cost of meals. The room can handle 130 to 140 people, Zheng says.
Why here?
With so many places to open a restaurant in Charlotte, the obvious question is, "Why here?"
"The main thing we look for is, where is the traffic flow?" Zheng says. He was drawn by the location's major highways, I-85 and closeness to IKEA, Walmart, the Belgate shopping center and, of course, UNC Charlotte. Zheng says that students already make up 10-15% of Tokyo Grill's customers.
Students as well as senior citizens and military personnel get 10% discounts.
Want to know more?
Tokyo grill and Buffet is open daily for lunch and dinner
Address: 8215 University City Blvd, Suite D, in the Commons at Chancellor Park shopping Center.
Phone: 704-599-9886
Website: https://www.facebook.com/tokyogrillandbuffet