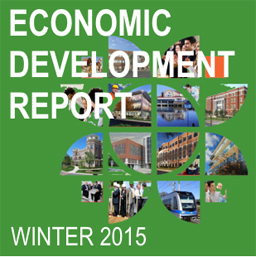 University City Partners invites you to download our Winter 2015 Economic Development Report. Building upon our debut report last spring, the new edition captures the energy of our region's reawakened economy. For starters: numerous office upfits, expansions and building renovations; $28 million for hotel upgrades and new rooms; and a new bridge across I-85!
"The information in this report update was carefully researched by our staff with the intent to serve as the resource for current news, data and research on economic development activity for University City," said Darlene Heater, executive director of University City Partners.
"As evidenced by this Economic Development Report update, University City continues to be a business center at the forefront of investment and job growth in the region," Heater added. "Access and location fuel this momentum: access to University research and talent; incredible road, highway and technology infrastructure; and a highly valued office product and development opportunity."
CLICK to download the report
Highlights of the new report
Office
Several building upfits reflect the employment growth and new tenants in single- and multi-tenant buildings across our Municipal Service District. Among the office buildings seeing improvements: Environmental Way, Resource Square 1 and 2, Mallard Creek Center, David Taylor Corporate Center, Innovation Park and the Wells Fargo CIC.
Exeter Property Group has completed the total transformation of a 1980s office building at 8740 Research Drive, while University Executive Park – University City's first office park – has spent $4 million on the first phase of renovations to buildings near the future McCullough Drive light-rail station.
Work continues on the $16 million expansion of the Rack Room Shoes campus to accommodate the headquarters of Off Broadway Shoes.
Retail
At University Place, renovations have begun for a Conn's Home Plus store in part of the former WalMart building, and a new retail building is under construction on J.M. Keynes Drive. A new retail building has opened at The Arbors, anchored by a Zoe's Kitchen restaurant. The upscale grocer Fresh Market opened last fall nearby at the Mallard Crossing center. A greatly expanded ABC Store has opened at 9740 University City Blvd., next door to its previous location.
Hospitality
University City's extensive hospitality industry has quietly spent nearly $20 million over the past year to freshen several facilities near the I-85-Harris Boulevard interchange. A new Homes2 Suites by Hilton also is on the way. The $8.3 million hotel will be on McCullough Drive near Harris.
Infrastructure
The big stories here are completion of the I-485 outer belt and I-85 interchange, and the start of major work along North Tryon Street and the UNC Charlotte campus for the the LYNX Blue Line Extension. The state now expects to open our last leg of I-485 this spring.
Meanwhile, construction of the light rail line has shifted into high gear for the next two years. Two large park-and-ride decks are taking shape along North Tryon Street near the future University City and J.W. Clay Boulevard stations. The city says that can expect reduced lanes, lane shifts and regular traffic delays this year, as crews rebuild North Tryon Street for rail lines in the median, and next year as crews install the tracks and power lines.
Transportation bonds approved last fall by Charlotte voters will fund planning and/or construction of several important transportation improvements, including construction of a new bridge over I-85. The bridge and roadway through the Belgate mixed-use development will provide a crucial new transportation corridor between URP and North Tryon Street when it opens in 2017.
UNC Charlotte
Several housing projects continue to take shape across campus, along with road improvements. The single most prominent project is the overhaul of one of the university's signature tower dorms, Holshouser Hall. When completed this summer, a brick-clad façade will replace the old white concrete exterior.
Residence Hall XIII, a six-story building that will serve 400 freshmen, is rising in the South Village area near University City Boulevard.
Residence Hall XII officially opened last fall in the growing East Village sector. Now called Martin Hall, the all-apartments building features four single bedrooms per unit and an expansive two-story lobby.
Football's growing presence on campus is reflected in two projects – the Johnson Marching Band Center near Robinson Hall and an Outdoor Events Shelter to accommodate activities related to football and other events.
Roads are getting attention, too. Phillips Road is getting realigned to eliminate the steep climb up to Cameron Boulevard. Work will start later this year to install a traffic light, pedestrian crossing and turn lanes at the Cameron Boulevard entrance on University City Boulevard.
Institutional
Newell Elementary School's new campus is under construction on the hillside overlooking Toby Creek on Rocky River Road West. The $18.6 million campus is scheduled for completion this summer. Work has begun on the first church building at University Research Park. Elevation Church is building its fourth permanent location including 1,200-seat auditorium in a new building on the Innovation Park campus on IBM Drive.