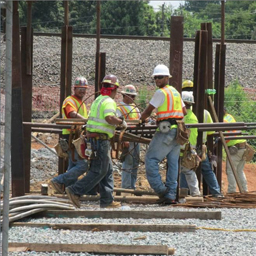 There's no way to sweeten this: Construction of our light-rail line and replacement of bridges over Mallard Creek will make travel on North Tryon Street difficult for many months. "Motorists, cyclists and pedestrians will experience a traffic corridor with frequent pattern changes and multiple work locations … well into 2015," says the latest Blue Line Extension progress report. Meanwhile, the state just closed North Tryon's southbound lanes at Mallard Creek until mid-2015 to replace the bridge. The greenway beneath will have a detour until both bridges are finished.
Tryon Street must be moved for light-rail tracks
After months of building retaining walls and relocating utilities, construction crews have begun the most intense phase of the Blue Line Extension project involving North Tryon Street – moving traffic lanes outward to create space in the median for two light-rail tracks. The Blue Line Extension will run on existing railroad right of way from downtown to where it meets North Tryon Street at Old Concord Road. From there to campus, the tracks will run in the median.
However, much of the median must be widened to fit the tracks. That process, in turn, will require moving the traffic lanes further out. That rebuilding will last well into 2015. What to expect Rebuilding the highway will result in motorists having to cope with some rough construction roadway, CATS says. At times the temporary travel lanes will extend beyond the edge of existing pavement. Drivers may also have to deal with narrowed and shifted lanes, as the road relocation progresses. Pedestrians also will find temporary sidewalks and detours, CATS says.
"Everyone who uses North Tryon will need to be far more alert to warning signs, detours and directions from construction flaggers," their update advises. Keep safe and keep informed with these aids CATS has created several information services to help you stay informed on traffic matters. These include:
Twitter: @BLEupdates
http://www.youtube.com/watch?v=g_3Q4T5F4vY
Newsletters: To subscribe to BLE newsletters via email click on the "Notify Me" image at the top right of any BLE webpage
Email: Send questions and comments to bluelineextension@charlottenc.gov
Phone: Reach CATS customer service for light-rail and other transit matters at: 704-336-RIDE (7433)
Months of detours ahead at Mallard Creek bridges
Right on schedule, the state transportation department closed southbound North Tryon Street to traffic on Oct. 15 so work can begin on replacing both bridges over Mallard Creek. The road closing has required CATS to reduce its 11U North Tryon Street bus service to UNC Charlotte. (SEE below.) Meanwhile, cyclists and pedestrians on the Mallard Creek Greenway have gotten some extra time, but not much. A new paved path is ready to take greenway users up the west side of North Tryon Street, where they will walk or bike up the shoulder of Tryon Street to Mallard Creek Church Road, then down the sidewalk on Mallard Creek Church Road to Kirk Farm Fields and the greenway entrance.
The $12 million project will replace both Mallard Creek bridges with much wider structures that will have an additional traffic lane plus a bike and pedestrian area. North Tryon Street carries about 55,000 vehicles per day. The closure of southbound lanes will last through mid-2015. Construction necessary for the Blue Line Extension will be performed while the northbound bridge is closed.
During this time, motorists will be detoured along Mallard Creek Church Road, I-85 and Harris Boulevard.
Once the southbound bridge reopens, the northbound bridge will close. The new southbound bridge will be wide enough to handle both northbound and southbound traffic while the northbound bridge is replaced.
Ways to find out about traffic problems
View the statewide live traffic website and adjust for our area: ncdot.gov/tims/default.aspx
For real-time travel information at any time, call 511, visit the NCDOT traffic website or follow NCDOT on Twitter.
Another option is NCDOT Mobile, a phone-friendly version of the NCDOT website. To access it, type "m.ncdot.gov" into the browser of your smartphone.
For more information, call the resident engineer, at (980) 523-0080.
Bus Route 11U service to campus is reduced
CATS has announced that it will reduce Route 11U service between uptown and UNC Charlotte – but the route change is less severe than CATS first announced. CATS initially said that the 11U bus would no longer circle through campus and stop at the East Deck near Robinson Hall. Councilman Phipps asked CATS to reconsider that decision. Here is the revised plan.
Starting October 17, 2014, the detour for the Route 11U will be revised to partially restore service on Mallard Creek Church Road, as well as relocate bus stops serving the University of North Carolina in Charlotte (UNC-Charlotte).
North of WT Harris Boulevard, the 11U will only serve North Tryon Street in the outbound direction. Mallard Creek Church Road will also only be served in the outbound direction. Passengers wishing to travel inbound on the 11U should take the outbound service towards UNC-Charlotte. 11U trips will continue inbound from UNC-Charlotte via WT Harris Boulevard back to North Tryon Street.
UNC Charlotte students, staff and visitors may access the campus at the Route 11 bus stop on Tryon Street and Institute Circle, or at the restored Route 11 bus stop on University City Boulevard at John Kirk Road. Connections with the Route 50 Red Line UNC-Charlotte Shuttle are located a block off North Tryon Street on Robert D Snyder Road and Institute Circle, or on Mary Alexander Road near John Kirk Road. As part of the new detour, the temporary bus stop at the CRI Deck on UNC-Charlotte campus will revert to only serving the Route 50 Red Line campus shuttle.
The inbound Route 11U stop on North Tryon Street and JW Clay Boulevard will not be served during this new detour. Customers using this stop may walk across North Tryon Street to the shelter in front of Carolinas Medical Center-University hospital. This stop will be served by the 11U outbound schedule, with service continuing inbound from UNC-Charlotte.
Service along Pavilion Boulevard will remain discontinued. The trips of the 11P in the Route 11 schedule will be operated as 11U trips, following the same one-way loop north of WT Harris Boulevard.
This change will remain in effect until North Tryon Street reopens to southbound traffic, expected to happen in fall 2015.