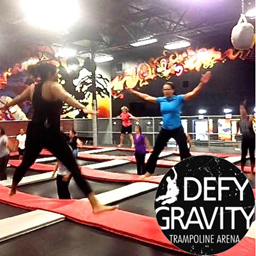 The former PetSmart store on University City Boulevard has bounced back to life in a big way – as the new home of DefyGravity Trampoline Park. Last Friday, when we visited, more than 80 children from Corvian Community School were jumping, running and even leaping onto piles of foam rubber under the watchful eye of "referees" – many of them students at UNC Charlotte.
Co-managers Delinda and Ed Hernandez moved to University City from Fresno, Calif., last winter to set up the Durham-based company's third location. Close friends from Fresno helped launch the first DefyGravity and kept after Ed and Delinda to take the … er … leap, too.
"The thing that drew us here was the opportunity, especially of being by the university," Delinda said. "My husband and I really like working with young people and investing our lives in something other than a business. "We really have fun doing that, and we're old," added the grandmother of 15, with a big laugh. "We thought this would make us feel a little younger."
What is DefyGravity?
The best place to get a feel for DefyGravity Charlotte is its website and on YouTube. The website describes the facility this way:
"DefyGravity Charlotte is a cutting-edge Trampoline Sports Park unlike anything you have ever experienced. Part entertainment venue and part sports gym, DefyGravity is a 26,000 square foot facility with wall-to-wall steel-frame trampolines including the world-famous Angled Wall Trampolines, an expansive Olympic Foam Pit and one of the largest Trampoline Dodgeball cages in America."
But if you really want to see the action, visit in person or check out this YouTube video, Delinda says.
So many ways to jump
The Charlotte facility opened on July 2. People can come for open jumps, hold group functions and parties, have fund-raising events such as the one last week by Corvian School, take part in daily or weekly programs such as KidJump, or even rent the entire facility.
Want to have an "Extreme Slumber Party" for up to 110? Delinda can arrange it. The most popular activity so far is the weekly Saturday open jump from 11 am to 6 p.m. Capacity is 125 people, and several have sold out, Delinda says.
The facility hosts many parties – 11 next Saturday alone, she says. Several UNC Charlotte fraternities, sororities and even sports teams have come to play, too. "We had some football players before the season started. Everybody was big!" Delinda said.
Programs for little grasshoppers, families and teens
At the other end of the size spectrum, DefyGravity offers KidJump for children 6 and under on weekdays from 9 to 10. Pay for the child, and the accompanying adult gets to jump for free. There's also a special area just for small children with its own trampolines, climbing wall and foam pit. Other programs target families, college students, people with special needs and older teens. ClubGravity, 9-11 pm Fridays and Saturdays, is exclusively for ages 15 and up. "It's a way better way to spend their free time than hanging onto a video game. They're exercising, and they don't even know it," Delinda says.
Adult fitness, too
Speaking of exercise, DefyGravity Charlotte launched Gravity Fit exercise classes in mid September. Delinda says that the Monday and Wednesday evening sessions are drawing nearly 30 participants, and half are in their 30s to 50s.
Location, location, location
Both the building and the location near UNC Charlotte have worked out well, Delinda says. With thousands of dorm rooms and apartments nearby, DefyGravity has both a ready supply of employees and customers. Finding that location in a highly visible retail center is also a big plus, she adds. This is the first DefyGravity located in a retail center, since the trampoline park needs ceilings at least 18-feet high – typically found only in industrial buildings. The former PetSmart superstore has both high ceilings and ample floor space for the facility's 50 trampolines plus 3D dodgeball and basketball courts. There's also plenty of lighted parking out front and great visibility from people passing by on University City Boulevard, Delinda says.
Learn more
DefyGravity is at 8116 University City Blvd. (in the Target shopping center). Visit the DefyGravity website and Facebook page to learn more or call the center daily at 704-817-4660.