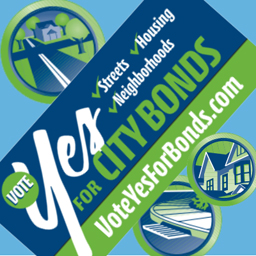 You may not know all of the candidates on the November ballot, Mayor Dan Clodfelter told people at Sunday's University City Town Hall Meeting, but make sure you go to the end of the ballot and vote for the city bond package. The $145.9 million in funding will bring several key transportation and neighborhood improvements to University City, he said. And most important, "These bonds will not require an increase in any taxes."
The bonds include $110.96 million for transportation, $20 million for neighborhood improvements and $15 million to build housing for low- to moderate-income residents. The single best source of information about the city bonds is voteyesforbonds.com. The website explains how the bonds work, why they will not require a tax increase, and specifically what they will help fund. Here are details of projects that would directly benefit University City:
Projects directly related to University City
Streets
I-85 bridge (south) – Build a new bridge over I-85 between University Research Park and the North Tryon Street corridor around Walmart. This will relieve rush-hour congestion on Harris Boulevard and Mallard Creek Church Road, provide new opportunities for business growth within the Research Park and provide new connection between the URP businesses and nearby residential and retail areas.
I-85 bridge (north) – Plan for a second new bridge over I-85 between University Research Park and University Place. This will provide additional connectivity between the Research Park, UNC Charlotte and the future Blue Line Extension station on North Tryon Street as well as the shops, housing and services in University Place. Construction funds would be included in a subsequent bond package.
Extension of Mallard Creek Church Road south of NC 49 – Also called the Eastern Circumferential, this new four-lane roadway will start at the current end of Mallard Creek Church Road and University City Boulevard (NC 49), go over the Norfolk Southern tracks and proceed south until it meets Back Creek Church Road near Rocky River Road. A related state project would build the new bridge and about a half-mile of roadway. Charlotte would pay for the remainder of the road. The bridge will become essential over the next few years as the state upgrades the rail line to a high-volume, high-speed rail corridor.
Cross-Charlotte Multi-Use Trail – Imagine getting on your bicycle and riding from Mallard Creek or UNC Charlotte all the way to downtown Charlotte and beyond to York County. That could happen in the next few years, if voters approve funds to plan and build the 26-mile Cross-Charlotte Multi-Use Trail. The project would link and upgrade several existing greenways, including our Toby, Mallard and Clark's Creek greenways. This fall's bonds include $5 million for planning. The next bond package in two years would include funds to build the project.
Neighborhoods
Charlotte seeks $20 million to bring sidewalks, bike lanes and other improvements to five neighborhoods including Prosperity Village, the emerging urban village around both sides of I-485 and Prosperity Church Road. Plans call for a grid of streets and multiple access points to I-485 here. While state funds will finish I-485, Charlotte will use these funds to help develop the nearby surface street grid.
Learn more, and get involved!
Learn more about city bonds at voteyesforbonds.com and at Facebook.com/VoteYesForBonds.
Help get the bonds passed. The group that promotes these bonds can use your help to spread the word and encourage others to vote.
CLICK HERE for details or contact Elizabeth Barnhardt, Campaign Coordinator, at 704-649-7008 or Elizabeth@VoteYesForBonds.com