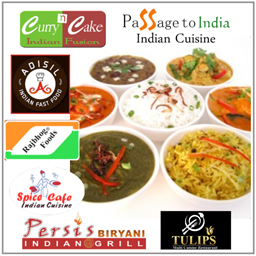 We often talk about University City's openness to many cultures. We even have data. Restaurateur Andy Singh and his peers, meanwhile, are building businesses on that acceptance. Singh's Passage to India near campus attracts Indian and non-Indian diners alike with its focus on fresh ingredients, toned-down spices, vegetarian entrees and low prices – including a $4 box lunch.
"I see sometimes, at dinner or lunch, where I don't find a single Indian" customer, Singh says – a surprising yet crucial stat, since Indians comprise just 2% of University City's 160,000 residents. All six other Indian restaurants here have taken similar steps, Singh adds, with similar results.
Indian restaurants have been serving University City customers since at least the mid-1990s. Our growing university, IBM and other early research park companies attracted Indians to University City, and the first restaurants soon followed. Today, more than a third of Charlotte's 6,000 or so Indian residents and students live in University City – particularly in apartments and neighborhoods near the research park but also, more and more, in Highland Creek, Singh says. Indians also make up about a third of UNC Charlotte's 1,200 or so international students.
Singh started in the restaurant business about 14 years ago and ran Bombay Cuisine at Grande Promenade for several years. Spice Café Indian Cuisine now operates in that location. Singh and his partner, Jorge Yol, opened Passage to India five years ago in the small retail center on University City Boulevard at Kirk Road. Two other Indian restaurants had operated there previously.
India's (softened) flavors at our doorstep
Singh says that our restaurants offer a fair sampling of India's four major regional cuisines – Southern, Northern, Western (Mumbai) and Indo-Chinese (often referred to as Fusion). Regardless of their focus, all of University City's Indian restaurants have toned down the spiciness of many Indian dishes to appeal to the American palate, Singh says.
Most of the restaurants, even ones that focus heavily on a particular Indian cuisine, offer buffet lunches that let people explore various dishes and Indian cuisines, usually at lower lunchtime prices. Several restaurants including Passage to India also reach out to Islamic residents of University City by following Islamic dietary rules.
Growing appeal of fresh and healthful foods
Singh says many University City customers have discovered that Indian foods are healthful and affordable as well as tasty.  "The key to the restaurant is our fresh food," he said. "We don't have anything frozen." Plus you'll find many vegetarian choices at Indian restaurants. "If you see American food and if you have vegetarian, it's probably the salad," he said, laughing.
Singh said he came up with the $4 vegetarian box lunch and $5 chicken box lunch to appeal to college students' affinity for cheap fast-food take-out. He also gives UNC Charlotte students an additional 10% discount.
Our newest Indian restaurant takes the fast-food approach even farther. Adisil Indian Fast Food at The Arbors displays its menu on flat-panel screens and offers traditional Southern Indian foods in modern American style, such as the 99 cent Curry Sandwich.
Explore India yourself with our seven restaurants
You may never have a chance to explore India, but you can sample its culinary delights right here in University City. We've compiled a handy guide to get you started. Let us know what you discover!
Adisil Indian Fast Food
Address: 2115 E. Arbors Drive suite 190
Contact: 704-900-8861. info@adisilco.com http://www.adisilco.com/
Hours: Mon – Sun: 11:30 am – 10:00 pm
Services: Eat in or takeout. Online ordering. Lunchtime delivery to nearby offices
About Adisil
This fast-food-style restaurant opened early this year in The Arbors center off of Mallard Creek Church Road. Customers order at the counter and carry their own food to their table.
Online reviews
Yelp – 12 reviews, 7 photos >> See the reviews
Foursquare – 2 tips >> See the reviews
Observer news article >> READ
Items people like in online reviews include: Lamb curry, chicken curry, onion dosa, fried potatoes, rice combos, Madras coffee, desserts.
A few comments from online reviews:
This is exactly what it says it is– Indian fast food. You order at a cafeteria-type counter, pay, take your tray, then go sit down. – Lianne on Yelp
We ordered chicken curry, onion and plain dosa, idli, medu vada, and madras coffee. Except medu vada, everything was tasty especially chicken curry. Madras coffee was truly great. – Rohit on Yelp
I loved it! The best dosa ever in US! Indian food for such low cost with such good taste and good amount of food. – Latha on Yelp
Desserts are a must try! Mini idli is yummilious! – Shilpa Chowdary on Foursquare
Curry n Cake Indian Fusion
Address: 2015 E. Arbors Drive Suite 270
Contact: 704-688-6972. a.tewari@curryncake.com   http://curryncake.com
Hours: 11 am-9 pm Sun, Mon, Thur; 11 am-9:30 pm Fri-Sat; closed Tue-Wed
Services: Take-out, catering. Free wi-fi
About:
Curry n Cake is a restaurant and bakery with an Indian Fusion. Located in the university area in North Charlotte, Curry n Cake offers special occasion cakes, wedding cakes and Indian food like dosa, curry, naan and biryani.
Online reviews
Yelp – 9 reviews, 8 photos >> See the reviews
Urbanspoon – 10 reviews, 145 votes >> See the reviews
Foursquare – reviews, votes >> See the reviews
Items people like in online reviews include: Kodi Vepudu, Lassis, Chilli Paneer, Gobi Manchurian, Samosa Chaat, Chicken curry, mango cheesecake.
A few comments from online reviews:
Palak paneer, aloo gobi, spinach pakora… Really great! – Clyde on Facebook
I'm pretty discriminating when it comes to Indian food. The Gobi manchurian was one of the best I've ever had. Perfectly fried and the sauce was a wonderful balance of sweet and spicy. – Sasha on Yelp
The Mango Cheesecake was AMAZING it tasted like I bit into mango by way of Cheesecake Factory. – Emmanuel on Yelp
Come for lunch during the weekdays for the lunch specials. A ton of food for a good price, and you get to choose whether it is vegetarian or nor. Also, the cake is fantastic. – Cori on Foursquare
Passage to India
Address: 9501 University City Boulevard at Kirk Road.
Contact: 704-549-1886. passagetoindianc.com
Hours: Open 7 days. Lunch buffet 11-3 weekdays, 11:30-3:30 weekends. Dinner a la carte: 5-10 Sun-Thur; 5-11 Fri-Sat.
Special offering: Everyday special lunch boxes: $3.99 for Vegetarian (2 vegetable dishes, rice, naan); $4.99 for Chicken (2 dishes, rice, naan)
About:
Passage To India is one of its own kind. We offer food with diversity & distinctiveness. We offer North, South Indian and Indo-Chinese Food.
Online reviews
Yelp – 91 reviews, 51 photos >> See the reviews
Urbanspoon – 126 votes, 18 reviews >> See the reviews
Tripadvisor >> 24 reviews >> See the reviews
Items people like in online reviews include: Lunch buffet, naan, Tikka Massala, Onion Pakoras, low prices
A few comments from online reviews:
"This is a hidden gem in Charlotte. My wife and I go here every Sunday for the buffet and they have some of the best food in Charlotte. The Tikka Masala is out of this world good!" – Jordan on Yelp
"Passage to India is essentially 2 awesome restaurants in one: a wide ranging, well-tended buffet at lunch and a great dinner spot with an exhaustive menu. You would be smart to try either, genius to try both." – Danielle on Yelp
"Lots of Vegetarian Options!!" JayKay on Yelp
Persis Biryani Indian Grill (North)
Address: 3130 Driwood Court (Prosperity Church Road).
Contact: 704-716-7001. http://persischarlotte.us.
Hours: Mon-Thu: 11:30 am-2:30 pm, 5:30-9:30 pm; Fri – Sun: 11:30 am-3 pm, 6-10:30 pm
Services include: Lunch buffet, catering and lunch deliveries Tues-Thurs.
About:
Persis Biryani Indian Grill North opened in fall 2013. It is part of an "authentic South-Indian style restaurant chain specializing in hyderabadi dum biryani. The company is based in Ohio, with 27 locations including University City and Ballantyne.
Online reviews
Yelp – 26 reviews, 31 photos >> See the reviews
Urbanspoon – 40 votes, 25 reviews >> See the reviews
Tripadvisor >> 4 reviews >> See the reviews
Items people like in online reviews include: Mutton biryani, butter chicken, vegetarian kofta. Gobi Manchurian, chicken and vegetable biryani, tandoori chicken, Gobi 65, Chicken Korma, lamb vindaloo
A few comments from online reviews:
Best Indian Restaurant in Charlotte: The Biryani is outstanding and my favorite 'Butter Chicken' is the best I've had anywhere. – Len on Yelp
I've dined at this place 6 times now, and each time has been amazing. Food has been fresh and delicious. I can only speak for the vegetarian dishes because that's what I like, and they are comfort food. – Lissette on Yelp
We live nearby and have been thrilled with Persis since they opened up. The location is convenient, service is great, and food excellent! We tend to stick with the same foods because we love them so much — Gobi 65 and Butter Chicken — but will definitely be trying the weekend buffet soon. – Aweyant on Urbanspoon
Rajbhog Indian Food Market and Café
Address: 9539 Pinnacle Drive Suite 100
Contact: 704-909-7783. charlotte@rajbhog.com. http://www.rajbhog.com/
Hours: 11 a.m.-9 p.m. daily.
Services: Phone orders. Ship nationwide. Catering. Party platters for meetings and events.
About:
Rajbhog of Charlotte has both an eat-in restaurant and a grocery carrying a complete line of Rajbhog products including frozen vegetable, ready to eat foods and ice creams. The restaurant offers Indian fast food such as Samosa, Chaats, Dosa, Lunch and Dinner. Rajbhog also offers over 60 different varieties of fresh sweets. Referred to as fast food, Rajbhog's fare is not comparable to the precooked hamburgers that sit wrapped under lights until ordered. The food here is made to order with fresh ingredients, herbs and spices. The "Rajbhog" concept started over two decades ago in a small sweet and snack shop located in Jackson Heights, New York. Rajbhog now has 10 locations.
Online reviews
Yelp – 34 reviews, 33 photos >> See the reviews
Urbanspoon – 7 reviews, 43 votes >> See the reviews
News article – Creative Loafing >> READ
Items people like in online reviews include: Matter paneer, Indian tea, wada paav, achari chicken, palak (spinach) chicken
A few comments from online reviews:
Nice place for Indian food in Charlotte University area. They serve Chats, Lunch & South Indian basics. – DJ on Yelp
Woah! Doing back flips about this discovery … I am Indian and picky about my Indian food. Hands down the most authentic I have sampled here so far. – Sabby on Yelp
We ordered a wada paav between us because that's how I judge the quality and credibility of anything that claims to be "Bombay special." Yes, they passed the wada paav test. It was some delicious wada paav. So delicious that we ordered some more to go. – Maddie on Yelp
Spice Café Indian Cuisine
Address: 230 E. W.T. Harris Blvd.
Contact: 980-355-0931. spicesouthindiancuisine@gmail.com. http://spicecafecarolina.com/
Hours: 11 am-2:30 pm and 5:30-10 pm Mondays-Sundays
Services: Full bar. Takes reservations. Available for private events and parties. Delivery.
About:
Fine dining for the entire family. Spice Cafe is a groundbreaking restaurant serving Indian Cuisine. The Décor at The Spice Cafe is modern and Family style, yet very cozy and eclectic. We serve a wide variety of drinks and wines. Spice bar is open nightly to fix your craving for ean xciting combination of both signature and innovative cocktails and refreshingly sparkling and other popular wines by the glass and bottles.
Online reviews
Yelp – 22 reviews, 4 photos >> See the reviews
Urbanspoon – 8 reviews, 48 votes >> See the reviews
News article – Creative Loafing >> READ
Items people like in online reviews include: Chicken Biryani, weekend buffet, Chennai mutton kolambu, vegetable samosas, chicken tikka masala, overall menu diversity
A few comments from online reviews:
The best 'Chicken Biryani' I've ever tasted is here. If you are in Charlotte, craving for some good Biryani, then this is the place to be. – Anu on Yelp
If you want to try an authentic taste of diverse Indian (& close to authentic for few dishes) then do visit this place. – Amarnath on Yelp
I love their lunch buffet a lot. They have varieties and their chicken biryani, butter chicken, chilli chicken, ish fry and samosa is awesome. – Priyam on Urbanspoon
Tulips Multi Cuisine Restaurant
Address: 9311 JW Clay Blvd near N. Tryon St.
Contact: 855-999-5477. tulipsmulticuisine@gmail.com. http://www.Dineattulips.com
Hours: 11:30-2:30 and 5:30-10:30 Mon-Thur, 11:30-3 and 6-11 Fri-Sat, 11:30-3 nd 6-10:30 Sun
Services: Lunch buffet. Delivery. Take-out. Outdoor seating. Takes reservations
About:
Tulips says that its mission is to sell "delicious and remarkable" Halal foods, and to provide food that "combines both modern-creative and traditional Southern styles of cooking." Offerings range from South Indian buffet to hand-blended milk shakes.
Online reviews
Yelp – 15 reviews, 17 photos >> See the reviews
Urbanspoon – 5 reviews, 12 votes >> See the reviews
Foursquare – 35 votes >> See the reviews
Items people like in online reviews include: Birani, lamb Shisk kebab, chicken tiki malsala, fried cauliflower, Onion Kulcha, Vegetarian Biryani, Curry dishes, garlic naan
A few comments from online reviews:
Best Indian Dinner Buffet! If you want to taste the Real Indian Food with it's Traditional taste you would wanna visit Tulips Indian Cuisine. – Syed on Facebook
Fantastic!!! Mostly Indian (Multi- region Indian) with some Indo-Chinese and a few Mediterranean dishes… EVERY Dish we ordered was a 5 yelp star experience or very close!!! – Rod on Yelp
This was SO delicious! Everything I tried was full of flavor; no two dishes are the same. I know virtually nothing about Indian food, but I do know a good bit about quality food, which is what I had today. – Sandra on Yelp
Order garlic naan no matter what. Chicken Tikka Masala is great. Majestic chicken is spicy in a good way. – Kristi on Foursquare