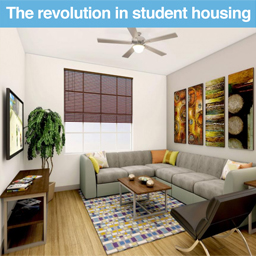 Underwater speakers in the pool. Granite kitchen countertops. Movie theater. Gated grounds. Private gym. Private shuttles – and those are just a few of the "Rockstar amenities" being promised by five student-focused apartment communities rising near campus. UNC Charlotte has launched its own housing revolution, too. You won't believe what's planned for the white dorm towers!
Top national players in student housing are building in University City
As our new Economic Development Report details, more than $380 million in public and private projects could add 4,000 new beds on and near campus by 2017.
But the story's even bigger. We're witnessing a revolution in student housing driven by our newest generation, Generation Next.That revolution has attracted national leaders in multifamily and student housing to University City, including Asset Campus Housing (No. 1 U.S. student-housing operator) and Lincoln Property Co. (No. 3 U.S. apartment management company).
These companies are acutely aware of the desires of Generation Next (or Generation Z) and its predecessor, the Millennial generation. Campus housing experts are crafting products to suit, JoAnn Blaylock, VP of Lincoln Property's student housing division, recently explained on Multihousingnews.com.
"Millennials have very busy schedules, and are accustomed to having things at their fingertips, at any time," Blaylock said. "Therefore, amenities that offer 24/7 access allow for students to maintain their active daily lives without ever having to leave the community." College students are also very socially active, she added.
Blaylock's community, Milennium One, promises students "an all-encompassing living experience that aligns perfectly with your trendy, yet sophisticated lifestyle." Amenities include fully equipped computer lab, fitness center, shuttle service to campus and "luxury lounge areas" for meeting the neighbors."
Arcadia, at North Tryon Street and Rocky River Road, offers its future residents a "sanctuary for the modern student … a mythical hideaway with cottages offering all of the most advanced accommodations in student living." These include a "luxury pool for chillin' and grillin'", individually temperature-controlled bedrooms and a 40-inch television in the living room.
Want a place for rooftop parties, a secured parking garage and bikes you can rent? Check out Circle One University, across from the main campus entrance.
UNC Charlotte's housing transformation
On-campus housing is going through its own transformation. The full story fills several pages of our Economic Development Report. Among the changes:
Three aging apartment communities have been torn down (more cost effective than the required renovations, explains Jacklyn Simpson, director of Housing and Residence Life).
The South Village is emerging around the 11-story white dorm towers, including the new South Village Dining Hall and parking deck.
Several buildings are scheduled for modernization – most notably those signature tower dorms: Holshouser, Scott and Sanford halls.
What do you do with 11-story concrete towers?
The yearlong makeover of Holshouser started right after 2014 graduation. Scott and Sanford come next.
A year from now, Holshouser "will look completely different on the outside as well as the inside," Simpson says. On the outside, each hall will get a new exterior with partial brick covering.
Students will appreciate big changes taking place inside, beginning with makeovers of the traditional two-person dorm rooms.
It's not feasible to tear out the cinderblock walls and convert each dorm tower to the suite-style housing that many students now prefer, Simpson said, but several changes will make the halls much more in line with modern student preferences.
Each room will get a makeover including new windows, heating and AC. Some rooms at the ends of the building will be removed to create lounges. Dorm bathrooms will get reworked to provide a more upscale finish and greater privacy. The renovation will also create public areas with windows to bring more natural light into the dark building interiors.
Even the elevators are getting upgraded. They finally will carry passengers all the way to the top floor instead of stopping on the 10th.
Competition now for students
The student-housing boom is partly a response to UNC Charlotte's rapid growth. More than 21,000 undergraduate students and more than 5,000 graduate students study here, and that number will continue to grow to 35,000 or more.
The sudden spurt of new housing, however, will likely exceed the annual increase in students attending UNC Charlotte over the short-term. The net increase of university and private housing projects will add about 4,000 new beds by 2017. Four of the five new communities will open this fall.
Most freshmen live on campus, Simpson said, but older students often prefer nearby apartments. A 2008 study found that nearly three-fourths of sophomores and even higher percentages of older students choose to live off-campus.
The new apartment communities and aggressive marketing have had an impact on those choices, Simpson said. "No doubt about it. When you pull a bus up (to a student dorm), say 'We'll give you a ride to campus,' and offer them a $350 gift certificate, something happens."
The university pays attention to market changes. Simpson says that 412-bed Residence Hall Phase XV, scheduled for construction in 2016, could be delayed if it's not yet needed.
See the Economic Development Report
View and download >> LINK