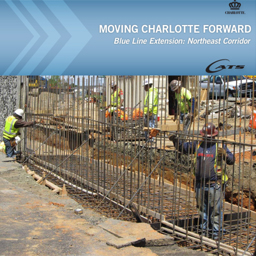 Business owners and operators along the LYNX Blue Line Extension corridor can get construction updates and discuss concerns this Thursday at the first quarterly BLE Business Meeting Update, 5:30-7 pm at the BLE Field Office, 8401 University Executive Park Drive, Suite 130. The featured topic will be business-signage options during construction. RSVP to Jennifer Duru at jduru@charlottenc.gov.
The Blue Line Extension is an extension of the LYNX Blue Line light rail service. The 9.3-mile rail service will extend from Ninth Street in Center City through the North Davidson (NoDa) and University City, ending on the UNC Charlotte campus.
Charlotte Area Transit System (CATS) and Neighborhood & Business Services are working together to support existing businesses located along the Blue Line Extension during the construction phase of the project.
Transit officials have launched a map at charlottefuture.com that shows the latest road and lane closures, bus detours and turning restrictions required to build the 9.3-mile light-rail line from UNC Charlotte to Center City.
Construction highlights in May
The latest LYNX BLE newsletter says that the civil contractor will start work near UNC Charlotte in mid- to late May. First steps will include building a construction entrance and a haul road to bring all the construction equipment and materials to the job site along the northern edge of the campus. Early work will focus on building a temporary bridge over Toby Creek. As the utility work now under way is competed in the University City leg of the corridor, work to build the remainder of the retaining walls will also begin.
A video glimpse of our future light-rail line
If it's hard to imagine how two light-rail tracks could fit on North Tryon Street, check out this Blue Line Extension video by the city of Charlotte. You'll see the line's future path from Ninth Street to NoDa and then on to North Tryon Street, plus detailed animations of key BLE features, such as the earthen berms and bridge that will carry the tracks of Harris Boulevard. You'll also learn how the original LYNX Blue Line from Center City to south Charlotte has transformed that area and why community leaders expect the same new development here.
North Carolina's transportation department has its own light-rail video. The state legislature approved several hundred million dollars to help build the lines. Not surprisingly, this 4-minute video examines the economic benefits of Charlotte's Blue Line and Blue Line Extension. View it here >> Blue Line Extension
Get more information
Jennifer Duru, Neighborhood & Business Services' LYNX Blue Line Extension Business Liaison, serves as a point of contact for businesses and developers who may have questions or concerns about the impact of construction. She can be reached at 704.281.5418 or jduru@charlottenc.gov.
Links
Charlottebusinessresources.com – http://charlottebusinessresources.com/
Charlottefuture.com — http://charmeck.org/city/charlotte/growthstrategy/Pages/default.aspx
Charlottefuture.com –
CATS BLE video —
NCDOT video —