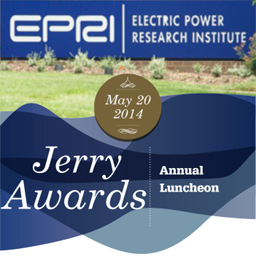 It's no secret that University City is home to many innovative and cutting-edge companies. A shiny example is the Electric Power Research Institute, one of two recipients of the 2014 Jerry Awards for significant contributions to the regional economy. EPRI and fellow recipient Time Warner Cable will be honored at the Jerry Awards Luncheon on May 20 at the Charlotte Convention Center. The event starts, appropriately, with networking, followed by the luncheon.
The Charlotte Regional Partnership launched the Jerry Awards in 2007 and gave them to two Jerrys: Jerry Richardson, founder and owner of the Carolina Panthers, and Jerry Orr, then aviation director of Charlotte Douglas International Airport. Other winners have included UNC Charlotte, US Airways, Belk and Siemens.
More than 1,000 people are expected for the 2014 Jerry Awards event at the Charlotte Convention Center's Crown Ballroom. Networking starts at 11, followed by the luncheon at noon.
About EPRI's award
This year's winner in the public/private sector, EPRI is being recognized by the Charlotte Regional Partnership for playing "a strategic role in strengthening Charlotte USA as the New Energy Capital." The partnership further explains:
The independent, nonprofit, research and development organization addresses challenges in electricity generation, delivery and end-use. Among other areas, EPRI focuses on the environment, reliability, efficiency, affordability, health and safety. Because it uses a collaborative model in conducting R&D, EPRI brings more than 2,000 industry leaders, scientists and engineers from around the world to its Charlotte campus each year. This makes these offices and laboratories a global center for innovation and problem solving in the electricity sector. With its 2012 expansion, the Charlotte operation employs more than 200 people on its 45-acre campus in University Research Park. EPRI is a scientific and strategic asset for Charlotte USA's burgeoning energy hub that our competitors can't match.
About Time Warner Cable's award
The Private Sector 2014 Jerry Award goes to the largest corporate campus of Time Warner Cable, among the largest providers of video, high-speed data and voice services in the United States. The Partnership further explains:
More than 3,200 people are employed throughout the company's local service area, which spans 13 of Charlotte USA's 16 counties. The Charlotte campus is also home to one of two new national data centers, handling TV, Internet and phone services for millions of customers across the country. Time Warner Cable's business services unit boasts a large Charlotte presence, with key leadership and one of the company's two eastern U.S. call centers. Time Warner Cable News, the company's 24-hour regional news network, has had an extensive Charlotte presence for more than a decade. Through its Connect A Million Minds initiative, Time Warner Cable and community partners also build our future workforce by engaging middle school students in afterschool and out-of-school programs to encourage them to pursue studies and careers in STEM disciplines.
How to get tickets
A limited number of tickets remained as of last week, at $100 each. You can buy them online through Saturday, May 26, at crpjerryawards.com. Or contact Marianne Blankenship at mblankenship@charlotteusa.com or 704-347-6581.