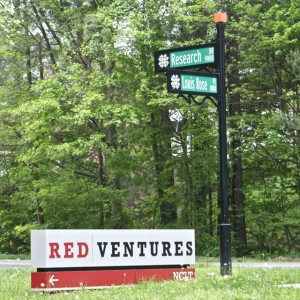 Red Ventures, the fast-growing on-line marketing and sales company, on Monday announced that it will bring an additional 580 marketing and tech jobs to its University Research Park facility at 1000 Louis Rose Place. The announcement is the latest in an impressive string of expansions and move-ins taking place throughout URP by companies as diverse as Electrolux, Rack Room Shoes and Allstate.
Headquartered just south of Charlotte in upstate South Carolina, Red Ventures was  founded in 2000 and has been growing at a rate of 30% a year for the last five years. The company now employs more than 1,900 people in five offices nationwide. Red Ventures opened its University Research Park office in 2013 and expects to employ more than 700 people there within five years. The company also plans to spend $2 million on improvements.
Red Ventures has been ranked among the top 10 "Best Places to Work" in the Charlotte region for the last five years. Its 34,000-square-foot facility in URP includes a gym, on-site café and outdoor basketball court.
Darlene Heater, Executive Director of University City Partners, attended Monday's news conference along with Gov. Pat McCrory and numerous state and local leaders. She said that Red Venture officials praised the URP facility's closeness to the many marketing and tech students at nearby UNC Charlotte.
• See the WSOC-TV report >> LINK
Other major URP developments
Here is a sampling of the new construction and renovations taking place in and near University Research Park.
• Rack Room Shoes – Rack Room Shoes is adding a 73,161-square-foot office building beside its existing headquarters building at 8301 Technology Drive. The $16 million project will house the headquarters of Off Broadway Shoes, a Rack Room Shoes subsidiary.
• Electrolux – Grading has started for an $85 million expansion of Electrolux's North American headquarters at 10200 David Taylor Drive. The six-story, 375,000-square-foot building is expected to open in fall 2017.
• Crescent Alexander Village – Crescent Alexander Village is taking shape on the heights above Mallard Creek Church Road at Senator Royall Drive. The $33 million first phase will have 320 apartments. The full development will cover 63 acres, including about 275,000 square feet of offices and 75,000 square feet of retail.
• Allstate – Innovation Park is upfitting 200,000 square feet for Allstate, which is relocating about 1,200 employees from its longtime offices across I-85 on McCullough Drive. The $9.8 million project will be finished in winter 2015.
• David Taylor Corporate Center – David Taylor Corporate Center is expanding its parking at 10105 David Taylor Drive to accommodate the growing needs of its tenants, including Peak 10.