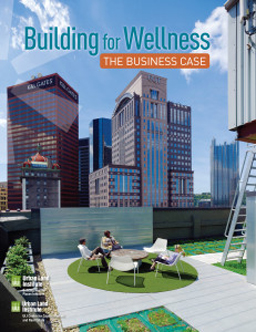 People working at Innovation Park can exercise in a $1 million fitness center, take YMCA exercise classes, go for group walks and bike rides on free loaner bikes and attend monthly wellness seminars. Such health-promoting programs – and the surge in leases that have filled the 2-million-square-foot former IBM plant – have earned Innovation Park a spotlight in the Urban Land Institute's new report, "Building for Wellness: The Business Case."
Urban Land Institute emphasis on health
The Urban Land Institute, a global land-use and development think tank, decided in 2013 to promote health in projects and places across the globe.
The new report looks at 13 examples of new and renovated construction and planned communities that embody that approach while demonstrating the economic value of doing so. The projects range from a master-planned single-family-home community in Australia to the transformation of a 1907 office building in Pittsburgh's Cultural District into residential lofts, retail and commercial space.
When BECO South bought the former IBM complex four years ago, less than a third of the space was leased. The center is now fully leased with more than 5,000 people and tenants including Wells Fargo, Siemens, and AXA Equitable. French engineering firm Areva moved its North American headquarters here in 2013. The latest arrival, Allstate, will add another 1,200 workers by 2015.
Innovation Park's programs
Health and wellness components at the 13 featured developments include project designs that encourage physical activity such as active staircases and walking trails; fitness and wellness programs; and partnerships with local groups.
At Innovation Park, University City YMCA manages the fitness center, provides exercise classes and leads the group walks and bike rides. BECO South also partners with a chiropractor with offices at Innovation Park to provide monthly wellness seminars.
BECO South provides a small fleet of loaner bikes for people to ride around the campus and on the nearby Mallard Creek Greenway. The company also promotes a half-mile of corridors as an indoor track.
Mercedes Merritt, head of leasing for BECO South, says the glass-walled fitness center – well positioned near the main entrance – has played a critical role in the facility's rapid lease-up.
Common themes
The ULI report found several common themes among the 13 projects – most notably a strong market response in the form of much faster lease-up and sales rates than the developers expected; higher rent than pro-forma projections; waiting lists; and new interest by lenders and investors. Developers generally reported the additional cost of these wellness components were minimal.
Theresa Salmen, district council coordinator at ULI Charlotte, said that ULI seeks to show the development community that many small improvements can help tenants' health while improving a building's bottom line.
"There are many little things you can do to make a significant impact," she said. What makes the BECO South improvements so important, she adds, is that they support the business case for including health amenities. "Having that business case is so significant," she said. "Without it, what does it mean? It's just a pipe dream."
Download the report
Learn more about the ULI Building Healthy Places Initiative and download its report, "Building for Wellness" >> LINK