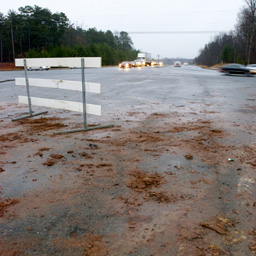 Two major road projects have just begun that will transform the highway grid west of I-85 through Derita. The state recently began preliminary clearing for the long-planned Graham Street Extension/Mallard Creek Road widening and realignment around the Derita business district. The city of Charlotte started clearing and grading in November to extend University City Boulevard from Neal Road to the new Mallard Creek Road. "Once this project is complete, street connectivity will be improved in northeast Charlotte by linking two major thoroughfares," said Charlotte Engineering Project Manager Leslie Bing.
Details of Mallard Creek Road realignment
The state project will create an entirely new four-lane path for Mallard Creek Road between Sugar Creek Road at Graham Street and Mallard Creek Road just west of Morris Estate Drive. The state will also widen Mallard Creek Road to four lanes from there to West W.T. Harris Blvd. Heavy construction is now projected to start by early March on the $28.7 million project, with completion planned for April 2017.
Details of University City Blvd extension
The University City Boulevard Extension will run across mostly open land except for a short stretch on its western end where it will follow part of Rumple Road. University City Boulevard and Mallard Creek Road will meet at the current jog on Rumple Road. The $10.8 million city project is projected for completion in June 2015, two years earlier than the Mallard Creek Road completion.
"Our goal during construction of the project is to minimize impacts to surrounding neighborhoods, businesses, and commuting citizens," Bing said. "Citizens should obey all regulatory and informational signage during construction."
Learn more