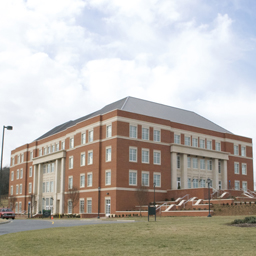 UNC Charlotte has a powerful story to tell about nurturing entrepreneurs, and the right person to tell it in Ventureprise Director Paul Wetenhall. Tonight at 7:30 on UNC-TV, Wetenhall and colleagues will share how a young university's vision three decades ago blossomed into the public-private Charlotte Research Institute, the soon-to-open PORTAL building and the catalyst for transformative business ideas called Ventureprise, Inc. Just be prepared for brevity.
"I only talked to them for about five minutes," Wetenhall told us. He expects to get perhaps 30 seconds of that interview into the 6-minute-or-so NC Now segment airing tonight. Reporter Rick Sullivan also spoke with Johan Enslin, director of the energy-focused EPIC center at UNC Charlotte, and Steve Ott, dean of the Belk College of Business, for his series on the roles North Carolina's 17 universities play in educating and elevating their communities.
Good time to get statewide recognition
Though the news segment will be, at best, a broad overview of UNC Charlotte's work over three decades, the statewide publicity comes at a great time. Over the next few weeks, several programs involved with building the local economy, including Ventureprise, will move into new quarters in the four-story PORTAL building at the North Tryon Street entrance to the Charlotte Research Institute. "This is intended to be the place where the business community can access the university," Wetenhall said. "This really builds on the work that the research institute has done and provides a physical place that is supportive of that." The interview also is timely for Ventureprise. Wetenhall oversees the regional effort to develop the next great business ideas. Its first small step, the University Business Incubator Center (later renamed the Ben Craig Center), began 27 years ago in a modest building on Old Concord Road. The Ben Craig Center will operate for a few more weeks out of its current home in University Research Park before moving to PORTAL. "It was very unusual for a university to have a business incubator back in the 1980s when the Ben Craig Center came into being," Wetenhall said. "The fact that it continued all of these years – we celebrated its 25th anniversary two years ago – is very unusual. It shows a constancy of purpose by UNC Charlotte."
More than 130 startups at Ben Craig Center
More than 130 start-up businesses have benefited from the Ben Craig Center, getting valuable support with affordable office space, office and financial services, business advice and mentoring. While two-thirds of new businesses nationwide fail within five years, 90 percent of Ben Craig Center clients have beaten those odds. Some have found major success: Verian, which develops and markets cost-control software; global translating service Choice Translating, founded by Michelle Menard in 1995 while a UNC Charlotte student; and Yorel Integrated Solutions, which provides services such as cloud computing, social and collaborative computing, and managed services. Best known of the Ben Craig Center graduates is Digital Optics Corp. Founded by UNC Charlotte engineering professor Dr. Michael Feldman, the company became a leader in developing and designing micro-optical solutions. Tessera Technology, a major provider for miniaturization technologies, acquired Digital Optics in 2006 for nearly $60 million. Digital Optics continues to operate at a facility in University Research Park.
From Ben Craig to Ventureprise
The Ben Craig Center's biggest success story could be its own. While the business incubator provided valuable services to its tenants, Ventureprise works with other organizations to transform the Charlotte region into a national center of innovation ¬ where, as a recent Ventureprise blog put it, "high-potential entrepreneurs will see Charlotte as a desirable place to launch their ventures." One contributor to pulling that off, Wetenhall says, is providing a place and programs where entrepreneurs can easily mingle with other entrepreneurs, university intellectual power and corporate interests. "Time will tell if it is true," he says, "but when you bring entrepreneurs into physical proximity with faculty and students, you get innovations and insights that don't happen otherwise." The Charlotte region may soon know whether Wetenhall is right. Ventureprise will move to its new offices in February. The Ben Craig Center name will not slip away entirely. Like many university buildings, PORTAL will open with a painting of a distinguished person from the past. "We are bringing Mr. Ben Craig's portrait with us," Wetenhall said with a chuckle.
For additional information