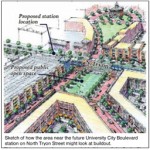 Share your ideas at Dec. 10 meeting on land uses near our 3 light­rail stations
The LYNX Blue Line extension to University City is likely to bring new development to our community once it opens in 2017. What kind of development do we want? City and transit planners invite you to help decide, beginning with a public meeting 4:30-6:30 p.m. Dec. 10 at the Oasis Shriners Center in University Place.
MEETING TO FOCUS ON 3 STATIONS IN UNIVERSITY CITY
The meeting will focus on current and future land-use plans around the North Tryon Street transit stations near University City Boulevard, McCullough Drive and JW Clay Boulevard. City staff will also share information about the supporting infrastructure program for the Blue Line Extension.
Comments shared by participants at the Dec. 10 meeting could help shape new recommendations for the future land use of properties within the transit station planning areas. For instance, should University City have mid-rise or taller buildings near its stations? How much multifamily development do we want?
The meeting may also influence revisions to the overall University City Area Plan, a land-use guide approved in 2007 for the broader business district.
NOT ABLE TO ATTEND?
People wishing to have a say but not able to attend the Dec. 10 meeting can take part in the process online at www.charlotteplanning.org. You can get additional information by calling 704-336-7433 or emailing bluelineextension@charlottenc.gov.
DEC. 5 INFORMATIONAL MEETING
The Charlotte Area Transit System staff will give a construction update on the Blue Line Extension at a separate information session, 4:30-6:30 p.m. Thursday at Sugaw Creek Presbyterian Church fellowship hall, 101 W. Sugar Creek Road at North Tryon St.
This meeting will cover construction progress and impacts and what you can expect to see along the alignment in coming months. Staff will also answer questions related to construction, business, real estate, land use, roads and more. To learn more, follow this link.