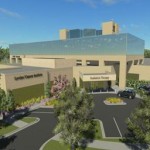 CMC-University patients soon will have easier access to powerful tools for fighting cancer. Work started in July on a one-story addition along Tryon Street for University Radiation Therapy Center, now located at a nearby office park. The $10 million project includes state-of-the art equipment for delivering cancer-busting radiation with increased precision and speed. The benefit to University City: sophisticated cancer treatment, closer than ever to where we live.
BRINGING CANCER TREATMENT CLOSER TO HOME
The new facility reflects the guiding principal set by the Levine family in helping launch the Levine Cancer Institute with Carolinas HealthCare System. "Folks should not have to drive downtown just to be placed on a clinical trial. That should be available where they live," says Vicki Reich, assistant vice president for the Levine Cancer Institute.
University Radiation Therapy Center has provided cancer treatment since 1998 at its current location in University Executive Park, about a half-mile from CMC-University. The move to new quarters will nearly double the center's space and provide easy access for patients requiring hospitalization at CMC-University. Treatments can run daily for up to eight weeks, and hospitalized patients now travel the short distance by ambulance.
At the same time, the center will replace two older pieces of equipment used for most treatment here. The new equipment, computers and software will cost close to $4 million and match similar equipment at the main hospital and some other CMC satellite hospitals.
"The capability to treat patients at the university center is very, very good," Reich emphasized. However, if there are patients that have more sophisticated needs than the current university center can meet, doctors send them to other CMC hospitals that have more advanced equipment. That won't be entirely necessary once the new center opens next June.
RAPIDLY CHANGING TECHNOLOGY
Keeping up with advances in medical equipment is an ongoing and expensive process, Reich said.
"Technology in radiation oncology advances as quickly as any other line in medicine," she said. "Keeping up with that is difficult, given the size, scope and price of projects. It's not like getting the latest and greatest copier.
"As the technology has advanced, the need to replace older equipment clearly was most important to be able to take care of all patients in the university market."
The new imaging equipment at the university center will help doctors identify a tumor's location and target it for radiation with much greater precision than currently possible.
Patients also will benefit from the new, much faster equipment for administering that radiation. The new equipment will cut treatment time from 20 minutes or more to just a few minutes. Patients must lie as still as possible during radiation treatment, Reich said, "so if we can give that dose in a short amount of time, the patient is more comfortable, and it's a better treatment."
IMPACT OF LEVINE CANCER INSTITUTE
One key improvement in cancer treatment offered by Carolinas HealthCare System may not be as visible as our new building and equipment. That's the symmetry in quality and safety standards being put in place across the system by the Levine Cancer Institute.
The physician group is the same at all locations, Reich said. All the physicians are partners, and they have one group overseeing both quality and safety at all the cancer centers. "We are better together when we share best practices. We benefit from standardization of expertise across the system."
CMC-University recently submitted an application for accreditation by the American College of Radiology – "the gold standard for quality in radiation oncology," Reich said.
She's confident CMC-University will receive the accreditation, because Pineville, Northeast, Rock Hill and Lancaster have all received theirs, and the same team is leading the effort here. "If they achieved the accreditation in Pineville, there's no reason to believe they won't achieve it at University, as well," she said.