Our long awaited light-rail line got a 25-gold-shovel groundbreaking last week. Hundreds gathered on the future line's gravel bed near Ninth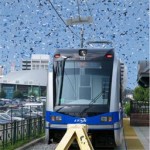 Street to hear Gov. Pat McCrory, Mayor Patsy Kinsey and others praise the 19-year bipartisan regional effort to build the line, with help from people as diverse as the late Sen. Jesse Helms and former Mayor Anthony Foxx – now U.S. Secretary of Transportation. Construction starts this fall; trains roll in 2017.
ONE HOT PARTY
Dozens of University City leaders and residents took part in Thursday's event near UNC Charlotte's downtown building, including university Chancellor Phil Dubois, N.C. Sen. Malcolm Graham and District 4 Councilman Michael Barnes. People greeted one another like old friends at a class reunion and posed for photos beside a parked light-rail car at the Ninth Street Station (its destination marquis flashing "UNC" and "Charlotte").
The actual groundbreaking lasted only a minute. Two dozen well-dressed and suffering dignitaries lined up on a red carpet in front of a long row of shovels, donned white construction caps, tried to look happy as they posed for the cameras under a hot summer sun and then burst into laughter when a cloud of blue and white confetti rained down on them.
The ceremony followed brief comments by key players in making this day possible.
McCrory, Charlotte's mayor from 1995 to 2009, offered a timely lesson on the benefits of regional cooperation.
McCrory took office the year after a citywide study group proposed building rail transit lines along Charlotte's major road corridors. He was still mayor in 2007 when the original LYNX Blue Line began running from Center City to just north of Pineville.
Three people were instrumental in getting the line's first federal planning grant, McCrory said, "including one person who may surprise you": Reps. Mel Watt and Sue Myrick and fiscal conservative Sen. Jesse Helms.
"Without those three working together in a bipartisan effort, we would not have gotten that first grant in 1998."
SO MANY HELPING HANDS
McCrory praised several other leaders for helping build both the Blue Line and its new Extension, including former Mayor Foxx, NC House Speaker Thom Tillis of Cornelius and the mayors of Mecklenburg's towns – particularly the north towns, which have pushed unsuccessfully for early completion of a commuter rail line through their town centers. "The North Mecklenburg mayors could have walked away and said it doesn't benefit us, but they stuck with it," he said.
McCrory had special thanks for another of the morning's speakers.
Early plans called for the Blue Line Extension to come up North Tryon Street beside the campus and end just east of I-485. That design nearly proved fatal.
"At one point (in 2005) the line was dead," McCrory said. "The city had been told by the feds that if you don't go through the campus, this line is dead."
Phil Dubois had only been chancellor for a week when McCrory paid a visit. "I came to him as mayor and said, 'Without your approval this line is dead,' and he said, 'Bring it on.'"
"It really was an easy decision," Dubois later told the crowd, "especially when you look out into a future that could take us to 35,000 students or more."
We can't build enough parking decks to handle all those students, he added. More than that, "Light rail also will give students access to the city and the city access to UNCC – especially to Charlotte's only Division 1 football program (a comment that drew cheers from the many university representatives)."
REALIZING THE DREAM
Other speakers offered their views on the Blue Line Extension's immediate and long-term benefits.
Federal Transit Administrator Peter Rogoff noted that the $1.2 billion project will generate 8,000 jobs during construction and carry about 18,000 riders when it opens – more than doubling the current Blue Line ridership.
Using South End's transit-fueled construction boom as an example, County Board Chair Pat Cotham said she expects communities near rail stops, such as NoDa, where she used to work, to see their own transit-oriented development once the Extension opens.
Mayor Kinsey praised the transit's power to help Charlotte realize its vision of a city where people have transportation choices other than cars, where residents enjoy walkable communities and where the air is healthy.
"This new line is about the people of Charlotte now and the people coming here in the future," she said.