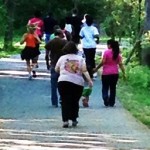 Anyone who's walked the Toby, Mallard and Clark's Creek greenways knows how popular our 9-plus miles of creekside trails have become. Good news, all you walkers, joggers, cyclists and non-car commuters: We're getting more, including a trail linking University Place directly to Mallard Creek Greenway. Ever heard of a greenway bypass? That's coming, too!
NEXT ADDITION: BARTON CREEK GREENWAY
The Barton Creek Greenway, set to open by fall 2014, will provide the first direct greenway link to Mallard Creek Greenway for thousands of visitors, workers and residents at University Place.
The paved greenway will begin at a pedestrian crossing on JW Clay Boulevard across from the University Place lake. The greenway will run beside several communities and the Paradise Valley par 3 golf course, with access points for the adjacent neighborhoods. A new bridge will link the Barton and Mallard Creek greenways. Construction should start next spring, says greenway planner Gwen Cook.
TOBY CREEK PHASE II
Toby Creek Greenway – the heavily used trail through UNC Charlotte – also will grow by a mile. Work should start in summer 2014 on Phase II, from the greenway's current end at University City Boulevard near WT Harris to the Autumnwood neighborhood just west of Rocky River Road.
CHARLOTTE'S FIRST GREENWAY "BYPASS"
So what's this about a greenway bypass? Well, the Mallard Creek Greenway will soon need one. A state road project to replace Tryon Street's aging bridges over Mallard Creek will require a yearlong closing of the Mallard Creek Greenway, beginning about February 2014.
The Mallard Creek Greenway has become so popular that the state and county worked together to find a way for greenway users to "bypass" the construction zone. The answer: reroute users via Toby Creek Greenway, a spur up to North Tryon Street at JW Clay Boulevard and the new Barton Creek Greenway back down to Mallard Creek. The new greenway will provide that service as soon as it opens in fall 2014.
Cook says walkers and bikers also will be accommodated when crossing Tryon Street during construction of the light-rail line later this decade.
MORE GREENWAY TO COME!
University City's greenway network is likely to keep growing.
• CAROLINA THREAD TRAIL – Mallard, Clark's and Toby Creek greenways are all part of an emerging 500-mile, 15-county regional greenway system called the Carolina Thread Trail. Learn more at carolinathreadtrail.org
.
• CHARLOTTE CROSS CITY TRAIL – Cook says that Charlotte City Council recently approved plans for the Charlotte Cross City Trail. This joint city-county project would develop a 28-mile trail from University City to Pineville along the Mallard, Toby and Sugar Creek greenways. The state is currently considering a Transportation Improvement Plan that includes $1.5 million for a piece of this new network – Toby Creek Greenway phase 3, from Autumnwood to North Tryon Street.
• URP PAVED GREENWAY– Perhaps the most misunderstood part of our greenway trail network is the long unpaved stretch between David Taylor Drive and Mallard Creek Road. This is actually not a part of the county greenway system at all; it's a private path whose owners have allowed public use. The county and the current owner are discussing possible purchase or a long-term easement that would allow the county to install and maintain a paved greenway.