What do you get when you combine a bike path and a sidewalk? The answer is the 10-foot-wide University City Boulevard Pathway. Work will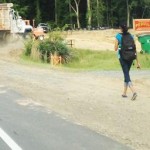 begin this summer on the multi-use path along Hwy. 49 from the main campus entrance to Mallard Creek Church Road,
The first construction will take place around the key campus entrances, with the goal of having those segments done by the start of the fall semester. The rest of the nearly mile-long pathway should be complete by late spring 2014.
The pathway was selected through the Charlotte Department of Transportation ranking process and was started when it rose to the top of the ranking list, says Troy Eisenberger, the city's senior project manager.
10-FOOT WIDTH WILL ALLOW BIKES AND WALKERS
While standard city sidewalks are 6 feet wide, the pathway will span 10 feet to accommodate both pedestrians and bicycles.
Many students live near campus and walk or bike to school. An apartment community is under construction where the pathway will end at Hwy. 49 and Mallard Creek Church Road.
BRICK SURFACE ON CAMPUS
The City Council recently awarded an $887,000 contract to Bullseye Construction to build the pathway. Eisenberger said the cost includes building two retaining walls required for the pathway to cross steep drop-offs beside Hwy. 49.
The path will be brick on the UNC Charlotte campus and asphalt elsewhere. The university will contribute to the cost of the brick pavers.